5 SCOTS hear of school progress in Helmand village
Helmand villagers recently told British soldiers who stopped by to hold a shura that a school built by ISAF forces three years ago is now thriving.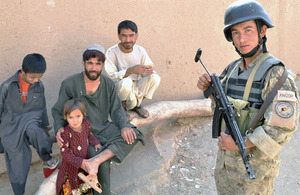 The British soldiers from A Company, 5th Battalion The Royal Regiment of Scotland (5 SCOTS), are currently based in the southern Nad 'Ali area of Helmand province.
They are currently working with the Afghan National Civil Order Police, a paramilitary surge force who have been operating in the Nad 'Ali area since Operation MOSHTARAK.
The two units, along with Sergeant Major Chet Thapa, a representative from the Military Stabilisation Support Group, the British Army unit responsible for furthering reconstruction, development and governance in Helmand, heard about the progress at the school during a shura in the village of Ali Khel Kalay.
They were all invited to join the villagers at the shura, a traditional Pashtun meeting, in the gardens of the village to discuss the issues of security and development.
Gulam Rasul, the head teacher at the village school and brother of the village headman, Lala Rasul, hosted the shura.
Gulam explained that his school was well-attended by 150 boys and girls up to age eleven, and that the school had two sister schools in the neighbouring villages of Ubek Khan and Zaman Khel.
All three schools share a pool of teachers which includes four females as well as Gulam's son.
Gulam showed the visitors the school registry, detailing the 150 pupils attending classes, and the school grounds.
The head teacher also proudly showed the new water pumps recently installed in the village and spoke of the improving security situation in the local area.
Following the shura the troops left Ali Khel Kalay to carry on with their day's tasking, continuing the support for governance and the spread of security and development in Nad 'Ali district.
Published 19 October 2010