News story
£5 million for Wolverhampton tram works
Roads repairs and upgrades to keep tram services on track.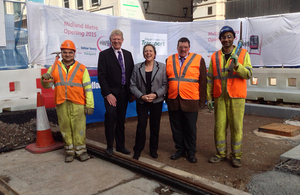 The Department for Transport is providing £5 million to fix the wear and tear on Wolverhampton's tram tracks, allowing services to continue running without disruption.
Essential works on the A41 will see road resurfacing and worn sections of the tram track rebuilt between the Priestfield and city centre tram stops, place this thanks to the funding.
Transport Minister, Baroness Kramer said:
This tram line is really important to the local economy. It provides a frequent link to key areas of employment, development and regeneration.

The £5m we are providing today (13 March 2014) will both help to maintain the A41, a key route in Wolverhampton and will also ensure that the Midland Metro system continues to be an efficient and attractive way for people to get around.
Centro, the passenger transport executive for the West Midlands, is to receive £5 million towards a £13 million project to provide rail replacement, track reconstruction and other associated modifications to the street-running section of the Midland Metro Line One light rail scheme. This funding will also help fund ancillary works in Bilston Road, Wolverhampton, together with structural maintenance of the Bilston Road carriageway.
These works will prevent restrictions of the light rail system and will allow Midland Metro Line One to continue to make its current contribution to the local economy.
The funding being announced is a one-off payment to Centro. The works will be delivered by Centro in partnership with Wolverhampton City Council. Works are expected to commence in summer 2014.
News desk enquiries
Media enquiries 020 7944 3021
Out of hours media enquiries 020 7944 4292
Switchboard 0300 330 3000
Published 13 March 2014