4th Mechanized Brigade to replace 12th Mechanized Brigade in Helmand
4th Mechanized Brigade will replace 12th Mechanized Brigade in October 2012 as the lead formation of British troops in Helmand province.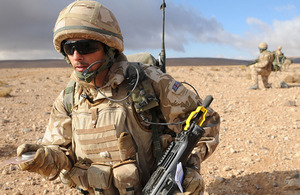 The HERRICK 17 roulement reflects the fact that conventional UK forces will draw down by 500 over the remainder of this year, as previously announced.
In addition to the list of formed units, individual augmentees from each of the Services will continue to deploy as part of this integrated force package. In total we expect 1,138 individual augmentees to deploy on operations. This will be comprised of 168 Royal Navy personnel, 344 Army personnel and 626 Royal Air Force personnel.
Volunteer and ex-Regular members of the Reserve Forces will continue to deploy to Afghanistan as part of this integrated force package, and we expect to issue around 575 call-out notices.
On completion of their mobilisation procedures, the reservists will undertake a period of training and, where applicable, integration with their respective receiving units.
The majority will serve on operations for six or so months. As part of this commitment, we expect up to six members of the sponsored reserves to be in theatre at any one time.
The roulement statement lists units due to deploy on operations as part of HERRICK 17 where the contribution from each unit totals ten or more personnel. This list is correct at time of publication but should the UK's operational requirement unexpectedly change it is possible that the envisaged size and formation of each unit may in turn alter.
The forces deploying include:
4th Mechanized Brigade Headquarters and Signal Squadron (204) Headquarters 104 Logistic Support Brigade
40 Commando Royal Marines
Elements of 847 Naval Air Squadron
857 Naval Air Squadron
The Royal Dragoon Guards
The Queen's Royal Lancers
4th Regiment Royal Artillery
Elements of 5th Regiment Royal Artillery
Elements of 16th Regiment Royal Artillery
Elements of 32nd Regiment Royal Artillery
Elements of 39th Regiment Royal Artillery
21 Engineer Regiment
Elements of 28 Engineer Regiment
Elements of 36 Engineer Regiment (Search)
Elements of 42 Engineer Regiment (Geographic)
Elements of 101 (City of London) Engineer Regiment (Explosive Ordnance Disposal)
Elements of 170 (Infrastructure Support) Engineer Group
2nd Signal Regiment
Elements of 10th Signal Regiment
Elements of 14th Signal Regiment (Electronic Warfare)
Elements of 15th Signal Regiment (Information Support)
Elements of 21st Signal Regiment (Air Support)
1st Battalion Scots Guards
1st Battalion The Royal Regiment of Scotland
1st Battalion The Duke of Lancaster's Regiment
1st Battalion The Mercian Regiment
1st Battalion The Royal Gurkha Rifles
Elements of 1 Regiment Army Air Corps
Elements of 3 Regiment Army Air Corps
7 Regiment, The Royal Logistic Corps
Elements of 6 Regiment, The Royal Logistic Corps
12 Logistic Support Regiment, The Royal Logistic Corps
Elements of 9 Regiment, The Royal Logistic Corps
Elements of 11 Explosive Ordnance Disposal Regiment, The Royal Logistic Corps
Elements of 17 Port and Maritime Regiment, The Royal Logistic Corps
Elements of 23 Pioneer Regiment, The Royal Logistic Corps
Elements of 29 Regiment, The Royal Logistic Corps
3 Medical Regiment
1st Close Support Battalion Royal Electrical and Mechanical Engineers
Elements of 7 Air Assault Battalion Royal Electrical and Mechanical Engineers
Elements of 101 Force Support Battalion Royal Electrical and Mechanical Engineers
150 Provost Company Royal Military Police
Elements of 101 Provost Company Royal Military Police
Elements of Special Investigations Branch (United Kingdom)
Elements of The Military Provost Staff
Elements of 1st Military Working Dog Regiment
Elements of 1 Military Intelligence Battalion
Elements of 2 Military Intelligence (Exploitation) Battalion
Elements of 4 Military Intelligence Battalion
Elements of The Military Stabilisation and Support Group
Elements of 15 Psychological Operations Group
Elements of The Defence Cultural Specialist Unit
Elements of The Honourable Artillery Company
Elements of The Royal Mercian and Lancastrian Yeomanry
Elements of 101 Regiment Royal Artillery (Volunteers)
Elements of 75 Engineer Regiment (Volunteers)
Elements of 32nd Signal Regiment (Volunteers)
Elements of 6th Battalion The Royal Regiment of Scotland
Elements of 3rd Battalion The Princess of Wales's Royal Regiment
Elements of 4th Battalion The Duke of Lancaster's Regiment
Elements of 4th Battalion The Mercian Regiment
Elements of The London Regiment
Elements of 148 Expeditionary Force Institute Squadron, The Royal Logistic Corps (Volunteers)
Elements of 150 (Yorkshire) Transport Regiment (Volunteers), The Royal Logistic Corps
Elements of 159 Supply Regiment (Volunteers), The Royal Logistic Corps
Elements of 204 (Northern Irish) Field Hospital (Volunteers)
Elements of 243 (Wessex) Field Hospital (Volunteers)
Elements of 102 Battalion Royal Electrical and Mechanical Engineers (Volunteers)
Elements of 103 Battalion Royal Electrical and Mechanical Engineers (Volunteers)
Elements of 5th Regiment Royal Military Police
2 (Army Co-operation) Squadron, Royal Air Force
31 Squadron, Royal Air Force
9 (Bomber) Squadron, Royal Air Force
15 Squadron Royal Air Force Regiment
Number 7 Force Protection Wing Headquarters, Royal Air Force
Number 2 Tactical Police Squadron, Royal Air Force
Elements of 47 Squadron, Royal Air Force
Elements of 30 Squadron, Royal Air Force
Elements of 5 (Army Co-operation) Squadron, Royal Air Force
Elements of 32 (The Royal) Squadron, Royal Air Force
Elements of 28 Squadron, Royal Air Force
Elements of 216 Squadron, Royal Air Force
Elements of 39 Squadron, Royal Air Force
Elements of 27 Squadron, Royal Air Force
Elements of 18 Squadron, Royal Air Force
Elements of 99 Squadron, Royal Air Force
Elements of 78 Squadron, Royal Air Force
Elements of 90 Signals Unit, Royal Air Force
Elements of 1 Air Control Centre, Royal Air Force
Elements of 33 (Engineering) Squadron, Royal Air Force
Elements of Tactical Supply Wing, Royal Air Force
Elements of 1 Air Mobility Wing, Royal Air Force
Elements of Tactical Medical Wing, Royal Air Force
Elements of 2 (Mechanical Transport) Squadron, Royal Air Force
Elements of 93 (Expeditionary Armaments) Squadron, Royal Air Force
Elements of Engineering and Logistics Wing, Royal Air Force Odiham
Published 11 July 2012