45 Commando train for rapid reaction duties
More than 750 Royal Marines and supporting units, together with three warships and Sea King and Chinook helicopters, have waged war in and around Galloway Forest Park in a week-long exercise to prepare 45 Commando for front line duties.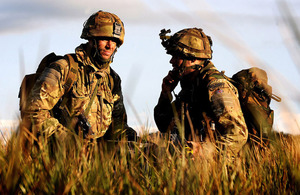 The Arbroath-based Royal Marines are now the nation's 'Lead Commando Group', ready to deploy around the globe if required, having successfully completed Exercise Scottish Lion.
Fresh from taking part in one of the biggest war games exercises in Europe this year, Joint Warrior, 45 Commando were thrust immediately into Scottish Lion, which saw the entire unit - more than 750 troops - put ashore south of Stranraer.
Scottish Lion covered ground from the ranges of West Freugh in the west to the ruins of 16th century Edingham Castle, near Dalbeattie, more than 40 miles (64km) to the east.
See Related News for more images from Exercise Scottish Lion.
After being based on helicopter carrier HMS Illustrious, flagship HMS Bulwark and amphibious support ship RFA Mounts Bay for Joint Warrior, the entire Commando Group was landed by helicopters and landing craft on the sands at West Freugh, a former RAF base now used as a missile test site.
Having established themselves around the old airfield, the Royal Marines moved inland, bound for Kirkcudbright, 35 miles (56km) away, to attack various objectives, before establishing themselves one more time.
As well as testing the men on the front line, Scottish Lion was a vital test of all the rearward services crucial to any operation such as logistics, transportation and casualty treatment.
Transport was provided by Commando Helicopter Force Sea Kings and RAF Chinooks, while the land vehicles clocked up more than 5,800 miles (9,300km) moving men and kit around Dumfries and Galloway.
The regimental aid post was never far behind the action and every 'casualty' was evacuated to it within an average of 26 minutes from the point of injury.
For added realism, more serious 'casualties' were even flown back to Illustrious for notional treatment within two hours of being 'wounded'.
With Kirkcudbright secured and 45 Commando established in the small town, it was time for the final assault on Edingham Castle with all four rifle companies and supporting echelons of the Commando Group.
With the dilapidated fortress seized, Scottish Lion was done, bringing the curtain down on 13 separate company-level operations, six helicopter assaults and a move over land by the Arbroath Green Berets of some 60 miles (97km).
Major Richard Wallace, 45 Commando's Second-in-Command, said the exercise was the perfect workout for the unit ahead of their front line mission:
Scottish Lion allowed 45 Commando to get back to the grass roots of what being a Royal Marines Commando entails," he added.

We experienced the full spectrum of conflict during the exercise: from the delivery of humanitarian aid to night-time commando raids against an enemy dug into a fortified position.

It has set the unit up for success and we have now taken on the role of the Lead Commando Group.
Published 9 May 2012