42 Commando celebrate opening of new medical centre
Royal Marines of 42 Commando at Bickleigh near Plymouth marked the completion of their newly-built medical and dental centre with a ceremonial opening on Friday 25 May.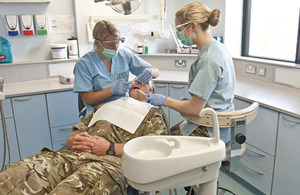 The £3.1m facility provides enhanced clinical care for patients and a full range of treatment and preventive medicine, including a physiotherapy suite.
Commander Carol Betteridge and Royal Marine William Cassidy Little unveiled the commemorative plaque ceremonially opening the medical and dental centre.
Cdr Betteridge was a former commanding officer (CO) of Camp Bastion Hospital in Afghanistan, supporting 3 Commando Brigade on combat operations by treating front line casualties. She now works at the Queen Elizabeth Hospital's Royal Centre for Defence Medicine in Birmingham.
Cdr Betteridge said:
This facility is a high priority and provides the highest possible standard of care to make the commandos fit for the job they do. It has been a great honour to unveil the plaque with Marine Cassidy [Little].
Marine Little was deployed as a medic with J Company of 42 Commando in Afghanistan.
He said:
I became a patient as I lost my left leg a year ago on deployment when I got blown up by the Taliban. The medical readiness of a unit is one of the hidden areas that not many people know about.
The conditions that [Royal Marines] work in, whether they are in Afghanistan or on Dartmoor, mean that you need to be at a peak of medical fitness.
The new sick bay brings us into a new age as we understand more of the medical and dental needs. On the plus side the medical and dental centre will also provide medical education.
The CO of 42 Commando, Lieutenant Colonel Neil Sutherland, said:
This is an extremely important facility. Our previous medical facilities were very dated and not fit for purpose for a Royal Marines Commando unit in 2012. The medical department had been split up, but what we have now is everything on one site for physio, dental and medical; they are all under one roof.
Now the quality and care for the Royal Marines is far improved. Our sick bay is a mix of military and civilian people. When we deploy, the civilians remain here and will be able to maintain the high standards whilst we are deployed.
Dental welfare and fitness of a unit is extremely important. We need to be able to maintain high levels of fitness in the unit. Rehabilitation is absolutely key to our medical practitioners.
Physio is important day-to-day business which also includes people who get injured on exercise; we need to get them back to full fitness as soon as possible.
The dental section of the centre offers the highest standards in dental healthcare, allowing concurrent treatment by dentists, hygienists and dental nurses using the latest equipment and techniques.
Although the dental team is able to use portable dental equipment to support the commando unit on the front line and other deployments worldwide, the new building will allow efficient delivery of complex and routine dentistry in order to maintain the dental health of the Royal Marines at their base.
The Director of Royal Naval Dental Services, Surgeon Captain Richard Norris, said:
The dental health of the Royal Marines has been an important component of our military effectiveness for many years. This new facility will allow the dental services to continue to offer the highest standards of care and treatment available.
Surgeon Lieutenant Amelia Pedrick, 42 Commando Senior Dental Surgeon, said:
We are looking forward to increasing the range of hygienist and preventive dentistry available to our patients; Royal Marines need and deserve the best dental care available and we are now in a position to deliver.
The medical and dental centre has three permanent dental staff, a visiting dental hygienist, one general dental officer, two civilian GPs, seven Royal Navy medical assistants and one physiotherapist.
Published 30 May 2012