40 cycling schemes underway on England's biggest roads
Work has started on more than 40 schemes as part of a £100 million package to make it easier for cyclists to cross motorway junctions and use major A roads.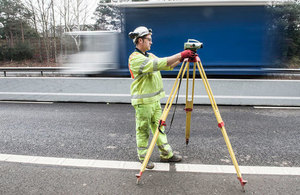 Highways England is delivering 200 projects across the country over the next 5 years after the government set up the £100 million dedicated fund for cycling in its Road Investment Strategy. More than 40 schemes have now begun and are set to be completed by this spring.
Work will continue on other projects between now and 2021.
The schemes will provide new cycling facilities which are safe, separate from traffic and can be used by cyclists of all abilities.
Transport Minister Andrew Jones said:
Our investment in cycling infrastructure will make cycling safer and ultimately cut congestion on the roads.

Highways England is well on the way to delivering £100 million worth of improvements to cycling facilities around major roads over the next 5 years.

This important work is part of a transformational programme to make travelling by bike a more attractive option – great news for cyclists and motorists.
The first phase of the cycling programme will see cycle lanes and crossings created or improved at 9 motorway junctions. New cycle lanes, crossings and signs will also be installed on major A roads across England.
They include improvements at 11 locations along a 2.5 mile stretch of the A12 in Lowestoft, Suffolk, to provide a high quality cycle route through the town, a new footbridge over the A27 in Kingsham in Hampshire, and new signs on a 12 mile stretch of the A590 in Cumbria.
Highways England's Cycling Champion, Richard Leonard, said:
These improvements will make cycling easier around major A roads and over motorway junctions across England. They will contribute towards a connected, comfortable, attractive and high quality cycling network, suitable and safe for use by people of all ages and abilities.

We want to provide safe, accessible and integrated cycling facilities that give people a genuine choice about whether to travel in their car to get on a bike instead.

If we can encourage more people to use their bikes for local journeys then this should also improve the flow of traffic for drivers travelling longer distances.
The investment in cycling schemes supports the government's ambition to encourage walking and cycling so that it becomes normal for short journeys or as part of a longer journey.
More details on Highways England's Cycling Strategy are available on our web page.
General enquiries
Members of the public should contact the Highways England customer contact centre on 0300 123 5000.
Media enquiries
Journalists should contact the Highways England press office on 0844 693 1448 and use the menu to speak to the most appropriate press officer.
Published 13 January 2016