40 Commando takes command in Nahr-e Saraj
40 Commando Royal Marines officially completed the transfer of command of Combined Force Nahr-e Saraj (North) on 21 September 2012 from the 1st Battalion Grenadier Guards.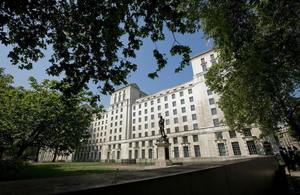 40 Commando deployed as part of Operation HERRICK 17 and now looks to continue the progress made by the 1st Battalion Grenadier Guards. It will, in due course, become a Transition Support Unit, when 40 Commando will become the supporting force in an area where the Afghan National Security Forces (ANSF) are ready and able to take the lead.
Nahr-e Saraj is a large area within central Helmand through which the strategically and politically important Highway One runs and where the second largest city of Gereshk, the economic hub of the province, is situated.
Throughout Op HERRICK 16, the Grenadier Guards have had great success in the area, making it possible for 40 Commando to take over at a point where the standard of the local ANSF has never been better, the confidence in government establishments is high, and the economy within Gereshk is booming.
The flag-change ceremony was held at Main Operating Base Price, the main British and Danish base in the area, and was attended by the headquarters staff from 40 Commando Royal Marines and Danish Team 14.
Throughout Op HERRICK 17, 40 Commando will be working closely with their Danish counterparts, who continue to provide an invaluable contribution to both the headquarters and the Combined Force.
On handing over command, Lieutenant Colonel James Bowder, Commanding Officer of the 1st Battalion Grenadier Guards, said:
I could not be more pleased to be handing over this important mission to such a palpably capable unit. I have been hugely impressed by what I have seen of the 40 Commando team during the past weeks, and I am confident that they will do a brilliant job consolidating the gains of the last eight months and driving forward the transition process.
And, on assuming command, Lieutenant Colonel Matt Jackson, Commanding Officer of 40 Commando Royal Marines, said:
I would like to take this opportunity to thank the 1st Battalion Grenadier Guards for all the hard work that has gone into making Gereshk and Nahr-e Saraj a better place for the Afghan people to live, and enabling the ANSF to thrive.
Published 25 September 2012