4 YORKS soldiers carry Paralympic Flame
Soldiers from 4th Battalion The Yorkshire Regiment (4 YORKS) have escorted the Paralympic Flame through part of northern England.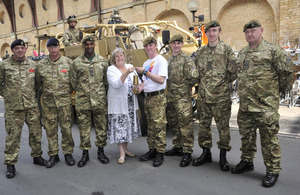 The Flame was lit nationally on Friday on the four highest peaks in England, Scotland, Northern Ireland and Wales. The Flame for England moved from Scafell Pike to Trafalgar Square in London, before travelling by train to York railway station.
At the station, the Flame was met by seven-year-old Evan Whitton from Silsden who has cerebral palsy and who carried the Flame to the lawn of the Royal York Hotel.
The Flame was then split into five separate torches for York, Leeds, Sheffield, Huddersfield and Beverley. The 4 YORKS soldiers received the torch bound for Huddersfield and then departed in a Jackal, one of the Army's armoured vehicles.
Warrant Officer Class 2 Lynden Robinson from 4 YORKS said:
It has been a huge honour for the Yorkshire Regiment to escort the Paralympic Flame - it is something we will only do once in our lifetime and it has been great to be bringing it to one of our regimental heartland towns.
The Flame journeyed in a three-vehicle convoy to the Leeds Road Sports Complex in Huddersfield where WO2 Robinson and Private Chris Herbert presented the lantern to the people of Kirklees.
The Flame was then carried by different teams of people who took part in a lap of honour around the athletics track in the finale to the Kirklees Youth Games Flame Celebration event.
Pte Herbert from 4 YORKS, who lost his right leg during a six-month operational tour of duty in Iraq, said:
I have some good friends competing in the Paralympics, personnel who were in rehabilitation with me at DMRC [Defence Medical Rehabilitation Centre] Headley Court and are competing in the track cycling and the discus. It is a genuine honour to feel a part of something they have worked so hard to achieve.

Being from Barnsley, I am delighted to have been able to carry the Flame within Yorkshire. I am very proud of where I come from, and it feels great to be back home to be a part of something so mind-blowing.

I am a member of a few different sports teams, including the sailing, skiing and surfing clubs, and have an active sports calendar; I am convinced I do more now with one leg than I ever dreamed of doing with two legs!
After the lap of honour, the Flame was presented to former Paralympian and world champion Paul Cartwright who represented Great Britain in the 1984 Paralympics at Stoke Mandeville in the 100 metres race.
The Flames will be reunited today in Stoke Mandeville in a special ceremony.
Published 28 August 2012