4 RIFLES train in Kenya to become rapid response force
4th Battalion The Rifles (4 RIFLES) is currently in Kenya undergoing intensive training to be the next rapid response force ready to tackle crises worldwide at 24 hours' notice.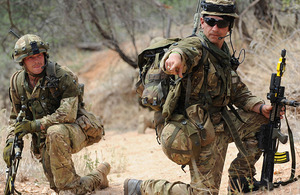 The rapid response force deals with various situations across the world from major terrorist attacks to the evacuation of British nationals overseas.
Around 700 personnel from 4 RIFLES have been joined by other units, including artillery and engineers, for the five-week intensive exercise at the British Army Training Unit Kenya, otherwise known as BATUK.
The aim is to train them in the skills of infantry soldiering ranging from day and night patrolling, ambushing an opposing force and taking control of an area and reassuring the local inhabitants they are safe.
The standard equipment of rifles and machine guns are complemented with the likes of a hi-tech Quasar-style laser firing adaptation and the wearing of body armour and helmets which can detect whether a soldier has been technically injured or even killed.
Lieutenant Colonel Nick Thornton, Commanding Officer of 4 RIFLES, said:
Kenya is superb because it gives us unparalleled opportunities for live firing and indeed firing with blank ammunition.
Force-on-force exercises really test every level of the battalion and every aspect of the battalion, so we are ready to go if called upon at any time - in what we call contingent operations.
Kenya offers 4 RIFLES a number of challenges that the likes of the Salisbury Plain Training Area near their base in Bulford, Wiltshire, cannot provide. These include roads that are no more than desert tracks that put a lot of demands on the vehicles, their drivers and the mechanics who are on hand to fix them when the need arises. Temperatures of up to 40 degrees Celsius also create another hazard to overcome.
Lt Col Thornton explained:
Extremes of climate are always very valuable in terms of training robustness. The heat adds an extra dimension to the force protection of the riflemen, ensuring they stay and remain fit to fight.
We have to make sure they have the right amount of water, they are eating correctly, that they are looked after and given as many creature comforts whenever we can.
4 RIFLES training is currently taking place in several locations within BATUK. Behind the wire and HESCO blocks which make up the compound walls conditions are basic but effective in serving the needs of hundreds of soldiers.
Rows of green tents provide covered space for sleeping, washing, cooking and eating and for a command cell and the signallers. There are plastic and gravel walkways and plenty of signs to guide you from place to place.
The locations of these camps within the training area range from lush green areas, with grass and trees and dark brown soil, to sparse arid conditions which are marked by the striking colour of the red soil. But at this time of year everywhere is very dry and dusty.
Rifleman Douglas Bleloch is one of the soldiers from B Company undergoing the rigours of the exercise. He said:
The training has been quite hard and I have really enjoyed learning to use my underslung grenade launcher, even if the bombs are just paint hitting the target at this stage.
It has been hot and humid and different to what I have experienced before but I am coping pretty well. The scenery is beautiful and I have seen quite a few lions, elephants and zebras as we have been out in the bush patrolling.
Rifleman Callum Neal from B Company added:
It has been an experience, we have been busy and it has been very stressful at times but it has been all right. We are just packing up the vehicles for the second phase of the exercise and I hear it is going to be 'a lick', which means tiring.
It is very hot this morning and someone told me it was 40 degrees and over. I think we should cope, stay strong and get through it. There is a good bond between all the lads and they like a bit of banter and a laugh.
Ensuring that the soldiers of 4 RIFLES are kept supplied with everything the unit needs during the exercise is a mammoth logistical task. The shopping list includes items ranging from an electrical socket to a shower bag, through to tenting, food, and complete kitchens to cook it on.
Major Rob Cutler, the Quartermaster in charge of the stores, said:
We started planning this back in January and a lot of the supplies come by sea, some by air, and the other parts are bought in Kenya. We go out and source locally and purchase what we need.
Then we have the challenge of moving it over some extreme distances with nothing under three hours and so there is a lot of planning involved.
"The pressures on our vehicle fleet are huge, so we have to take that into account. It has been a challenge, probably one of the biggest challenges in 27 years to be honest, but the team I have got with me makes it a lot easier and I have some extremely competent guys."
4 RIFLES continues training in Kenya until the middle of June when the exercise culminates in a major scenario to test them thoroughly before they start their new role as Spearhead Lead Element in October.
Published 25 May 2011