News story
£4.17 million of red tape costs to businesses cut
The Third Statement of New Regulation, which measures the success of the One-in, One-out rule, shows that there is a cumulative net reduction…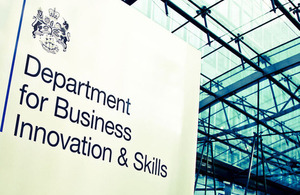 The Third Statement of New Regulation, which measures the success of the One-in, One-out rule, shows that there is a cumulative net reduction of regulation since January 2011. It also shows that the number of regulations which reduce a cost on business continue to outweigh the number which put a new cost on business.
Business and Enterprise Minister Mark Prisk said:
"The One-in, One-out process is one of the best tools we have to cut the costs and burden of regulation on our businesses. The system is starting to deliver results, capping the costs to business and then driving them down. But we know that changing the culture of regulation in Whitehall is a long-term job, and all of us in Government have to, and will, continue to root out any red tape which poses more of a hindrance than a help to UK businesses."
The new statement also shows that Departments have started to remove legislation as a result of the Red Tape Challenge and deregulatory measures designed to reduce the burden on business are in the pipeline for later this year.
Lord Curry, Non Executive Chair of the Better Regulation Executive, said:
"Economic growth is crucial and all Departments should be aware that everything they do impacts on the growth agenda. The business community is looking for evidence and Departments need to recognise that any regulation they introduce will affect business in some way.
"In the Better Regulation Executive we are really pleased to see that culture change across Whitehall is beginning to bite. It's more evidence that the One in, One out rule really works. We need to continue to see more of the same."
The latest statement of new regulation has been published four weeks ahead of the April Common Commencement Date (6 April) to give businesses more certainty about regulations that are coming in on that date. The Fourth Statement is planned to be published up to eight weeks ahead of the October Common Commencement Date and the Fifth Statement up to twelve weeks ahead, to provide clarity for businesses and help them plan for the future.
Notes to Editors
The Third Statement of New Regulation can be found here: http://www.bis.gov.uk/policies/bre/better-regulation-framework/one-in-one-out/statement

Revised calculations from the Second Statement of New Regulation also mean that the Government expects to reduce the deficit from the Second Statement by over £70million. Specifically:
a. the Department of Health reassessed the evidence base for the ban on tobacco vending machines included in the second Statement of New Regulation and submitted a revised impact assessment to the RPC. The final value is now validated at £9.8 million.
b. the Department for Environment Food and Rural Affairs' Schemes for Adoption of Private Sewers is subject to an expert review of the One In, One Out methodology in cases of capital asset transfer. The final value is to be validated by the Regulatory Policy Committee and will be updated in the fourth Statement of New Regulation;
One-in, One-Out means that any new Whitehall regulation that imposes a net cost to business must be offset by a reduction in regulatory costs elsewhere. It is about making government departments 'hesitate to regulate' - thinking twice about bringing in red tape that could hold business back from creating jobs and growth.

The Third Statement of New Regulation shows that the cumulative net reduction of regulation since January 2011 is around £3.3 billion. The bulk of the savings (just over £3bn) delivered thus far continue to be attributable to the change to private pensions indexation, introduced by the Department for Work and Pensions in January 2011 and was expected to be offset in part by pensions auto-enrolment. Although the Government intends to introduce this measure in the autumn, auto enrolment for small businesses has been delayed until 2017 to give smaller firms longer to prepare.

Read more about how One-in, One-out works here: http://www.bis.gov.uk/policies/bre/better-regulation-framework/one-in-one-out

The Better Regulation Executive, in the Department for Business Innovation and Skills, is responsible for implementing the better regulation agenda; working across government to improve the way new laws and regulations are created; reduce unnecessary red tape; and provide the best environment for business to start up, flourish and grow.

BIS's online newsroom contains the latest press notices, speeches, as well as video and images for download. It also features an up to date list of BIS press office contacts. See [http://www.bis.gov.uk/newsroom](http://www.bis.gov.uk/newsroom) for more information.
Notes to Editors
Contact Information
Name BIS Press Office Job Title
Division COI Phone
Fax
Mobile
Email NDS.BIS@coi.gsi.gov.uk
Name Aidan Steer Job Title
Division Department for Business, Innovation and Skills Phone 020 7215 5245 Fax
Mobile
Published 28 February 2012