€300m in Euro funding for UK carbon capture project
A UK carbon storage project has received a funding boost of €300m from the European Commission.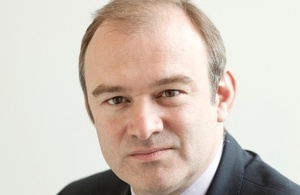 A UK carbon storage project that would support up to 2,000 jobs and provide clean electricity to more than 630,000 homes today received a funding boost of €300m from the European Commission.
The White Rose project, based at Britain's largest coal-fired power station, the Drax plant in Yorkshire, is one of Europe's first carbon capture and storage (CCS) projects. When built, the plant would capture around 90 percent of its carbon dioxide emissions, and would safely store 2 million tonnes of carbon dioxide per annum under the North Sea seabed.
Energy and Climate Change Secretary Edward Davey said:
"This is great news for Yorkshire and for Britain. White Rose will create thousands of green, local jobs and make a real difference to cutting carbon emissions.
"The UK is at the forefront of developing carbon capture and storage, with excellent potential for storage in the North and Irish Seas, and the expertise in operating offshore to make it a reality.
"And as a world leader in the technology, as carbon capture and storage is commercialised Britain will be in first place to export this knowledge to a decarbonising global economy."
Carbon capture and storage is a process of capturing millions of tonnes of CO2 from power stations and industrial facilities, and storing the CO2 offshore, deep under the sea bed. It's estimated that clean power plants with CCS could provide more than 20% of the UK's electricity by 2050.
The White Rose project includes the construction of a new state-of-the-art clean coal power plant with a large CO2 transport and storage network. Through CCS technology, the plant would capture around 90 percent of its carbon dioxide emissions, which would then be transported by pipeline and stored permanently deep beneath the North Sea.
NER300 is a European Commission programme that funds innovative renewable energy technology and CCS projects, and White Rose is the only CCS project in Europe to be allocated funds under the programme.
The White Rose project, along with another CCS project based in Peterhead, are benefiting from around £100 million from the UK Government to support design and engineering work. Both projects are eligible for the remaining £1 billion of support under the CCS Commercialisation Programme.
Notes for Editors
A consortium of Alstom, BOC, Drax and National Grid is developing the White Rose project.
The International Energy Agency calculates that under their 2°C Scenario, CCS contributes one sixth of global CO2 emission reductions required in 2050, and 14% of the cumulative emissions reduction between 2015 and 2050 compared to a business-as-usual approach.
The UK Government signed a Front End Engineering and Design (FEED) study contract with White Rose in December 2013. The FEED study is a programme of detailed engineering, planning and financial work to finalise and de-risk all aspects of the proposal ahead of taking final investment decisions, and proceeding to construction.
The UK is ideally suited to the development of a CCS industry with excellent storage potential in the North and Irish seas, world leading CCS research being undertaken in UK universities and the UK CCS Research Centre, and one of the most favourable policy environments for CCS in the world according to the Global CCS Institute's (GCCSI) new CCS Policy Indicator.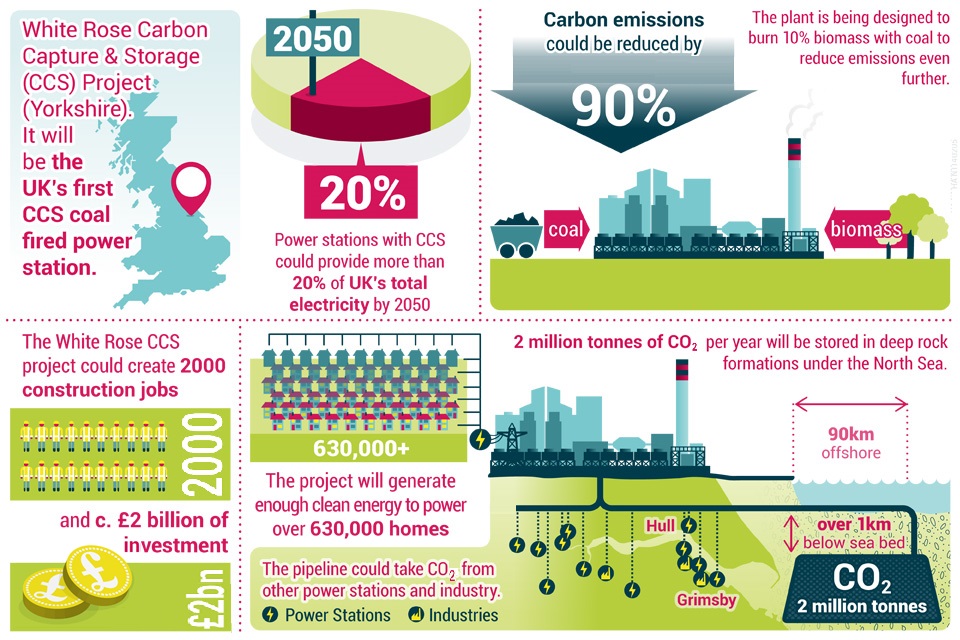 Published 8 July 2014