Press release
30 million reasons to smile this Valentine's Day
Would-be romantics are being given a helping hand to get a winning smile this Valentines Day thanks to a £30 million cash boost for dentistry.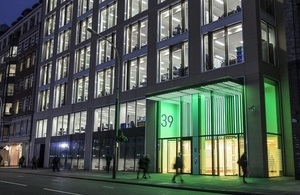 A healthy smile and fresh breath are essential ingredients for those hoping to make a perfect impression on February 14. And with a smile being one of the first things you notice about a potential partner, it has never been more important.
The Department of Health has today announced a £30 million boost for NHS dentists. This will allow more patients to register with a dentist, get their oral health checked and bring their beaming smile - and confidence back.
Lord Howe**, **Health Minister, said:
"Since May 2010 more than a million new patients are seeing an NHS dentist.
"We want to make sure that this progress continues and that dentists give the highest standards of care as well as treating more patients. That's why we have invested this extra £30 million in funding.
"Better oral health is a key priority of the Government and we recently extended the dental pilot programme which will see preventative care at the heart of dentistry going forward."
Barry Cockcroft, **chief Dental Officer for England said:
"Having a healthy smile is so important and I hope this £30 million will see thousands of new patients pick up the phone and register with an NHS dentist.
"Having stained teeth, unhealthy gums and bad breath is not only bad for your health, it is so damaging for confidence too. This Valentine's Day, I really hope people will take the opportunity to do something about it."
Dental surgeries have been applying to the local NHS to access the extra funds which will allow them to take on new patients and fund extra clinics.
This is the second year the Government has made extra dental funding available. Dental practices can use the extra funds to either put on extra clinics, attract new patients or buy in new services such as orthodontics.
Top tips for a healthy smile;
Brushing your teeth twice a day with a family strength fluoride toothpaste helps prevent tooth decay, gum disease and bad breath.
Care must be taken to clean all surfaces of all teeth, including the gum line.
Use a toothbrush with a small head and soft or medium bristles and a handle which is comfortable to run less of a risk of damaging your teeth by brushing too hard.
Powered brushes can also clean effectively.
Spit out after brushing and do not rinse
Cut down on the amount of sugar in foods and how often sugar is eaten
Only eat sugary foods at mealtimes and limit food and drinks with added sugars to four times a day
Visit your dentist regularly for check ups, even if you feel there isn't anything wrong with your teeth.
Contacts
To contact the Media Centre, please refer to the Department of Health's website for the relevant contact
Press releases and statements are also available via the Department of Health's website:
Published 14 February 2013