World news story
30 Israeli tech companies to pursue business collaboration in UK
London to play host to 30 of Israel's most exciting and creative start-ups this March.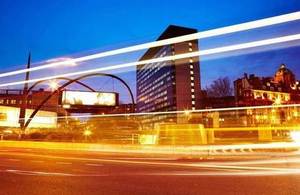 In March of this year, London will play host to 30 of Israel's most exciting and creative start-ups, all of whom will be arriving as part of two simultaneous delegations – one focused on retail-tech and the other on water-tech.
All of the start-ups will be arriving as part of two simultaneous delegations – one focused on retail-tech and the other on water-tech.
The first 15 companies each won a place on this year's TeXchange programme – a unique UK-Israel technology exchange programme that creates an on-going two-way flow of digital tech pioneers, companies, ideas and technologies between the two countries. This programme is a joint initiative by the UK Israel Tech Hub at the British Embassy, the Economic and Trade Mission at the Embassy of Israel in London and the Israeli Export Institute.
The list of 15 winning TeXchange companies was announced earlier today, with each having been carefully selected from a pool of over 70 applicant companies, all of whom offered innovative solutions for the retail industry. The winning companies are: C-B4, CoolaData, Cimagine, doobe, Easy Social Shop, EZface, Jifiti, Keeprz, KitLocate, Mipso, RFKeeper, Riskified, Shopcloud, SkyGiraffe and Yotpo.
These 15 companies will be taken right into the heart of London's retail scene. They will visit Tech City, European fastest growing cluster, to meet with potential clients, customers, investors and industry experts. The programme will provide an opportunity for the Israeli companies to forge partnerships in the UK while opening up new avenues to the European market.
The 4-day programme includes:
pitching sessions
pre-arranged 1-to-1 business meetings
introduction sessions to the UK's leading retailers
participation in the Retail Week Live conference, where the TeXchange programme will host a panel discussion and networking session on "Israeli innovation: Bringing the Future to Retail".
Companies will also explore London's top tech-accelerator programmes and learn about the advantages of collaborating with UK corporations as a means for global expansion.
Simultaneously, while the Israeli retail companies journey though London, they will be joined in the city by a delegation of the very best of Israel's water-tech industry, who will be participating in the World Water Tech Investment Summit.
This water-delegation aims to create opportunities for business and collaboration between Israeli innovation and British companies active in the water sector. Prior to the summit, the Israeli companies will attend a full day UK-Israel Water-Tech workshop, which will explore possible avenues to commercial partnerships, with a specific focus on other international markets.
Leading British water utility companies, engineering firms, SMEs and industry experts will all be participating in the programme for this delegation, which is another joint initiative by the UK Israel Tech Hub at the British Embassy, and the Economic and Trade Mission at the Embassy of Israel in London, with the support of the Israeli Export Institute and Israel NewTech.
Commenting on these exciting initiatives, British Ambassador to Israel Matthew Gould said: 'It says a lot about our growing partnership in tech that we have these thirty companies heading to London. These are companies that will take with them some of the best of Israeli innovation. In London they will meet some of the world's top companies - British companies with worldwide reputations and worldwide reach, which can help their innovation go global. British retailers, British water companies and British construction companies are leading the world, and are eager to partner with Israeli innovation.'
Yoni Nevo, CEO Cimagine: "We are proud to have been chosen to participate in this important delegation connecting Israeli start-ups with leading retailers who welcome innovation. The UK is a key market for Cimagine's augmented commerce solutions and we hope to forge new ties and explore new projects by being part of this delegation." Avsha Shilin, CEO Mipso: "We at Mipso are honored to be chosen to participate in the TeXchange programme. We view it as a great opportunity to assist British fashion retailers and brands solve their customer's fit issues by providing individual size recommendations online, mobile app, and in-store, thus providing them a more innovative shopping experience."
Note to editors:
C-B4- (Predictive Analytics) - C-B4 offers a unique pattern-based predictive-analytics technology for analysing complex systems and processes by monitoring and forecasting changes in the customers' purchasing behavior, for different products, across stores and chains.
CoolaData- (Predictive Analytics)- CoolaData is a behavioral data service empowering your data-driven business. It simplifies complex data structures into useful business terms and leads to actionable insights.
Cimagine- (Augmented Reality)- Cimagine offers the first true markerless solution enabling retailers and brands to augment commerce in an immediate, hassle-free manner for retailers to augment their e-commerce website, mobile web, mobile apps and printed media quickly and without costly maintenance.
Doobe- (Recommendation Engine)- doobe helps businesses maximize results through efficient utilization of their already owned media and traffic.We believe that achieving this requires being Smart, understand Marketing and having Insight.
Easy Social Shop- (Social Shopping)- Easy Social Shop is a powerful Social Commerce solution, allowing you to import your current online store into your Facebook fan page.
EZface- (Digital Mirrior)- ezface developed an innovative software that converts digital photographs into a personal "Virtual Mirror" through which customers can visualize how they actually look wearing various makeup products and hair colors and decide which products fit their desire.
Jifiti- (Gifting) Jifiti is a free gift giving app that allows you to give or get gifts. Combining mobile technology with online & in-store shopping.
[Keeprz](http://www.keeprz.com/- (Loyalty)- Keeprz is an innovative One-Stop-Shop mobile loyalty platform. Keeprz helps brands and brick & mortar retailers to engage customers, know them better and keep them coming back.
KitLocate- (Consumer Location Intelligence) KitLocate adds location relevancy to your mobile app, enabling effective user engagement and targeted marketing like never before.
Mipso- (Fashion Sizing Recommendation)- MIPSO provides a comprehensive solution that has revolutionized e-commerce for women & men's apparel, solving the fit problem, increasing brand loyalty and reducing return rates.
RFKeeper- (Inventory Management)- RFKeeper provides Plug & Play RFID Products for Fashion Retailers that can be fully deployed within hours.
Riskified- (Fraud Prevention)- Riskified reviews, approves & guarantees transactions you would otherwise decline. All approved transactions are guaranteed in an event of fraud. You only pay us when we approve a transaction and you sell more.
Shopcloud- (In Store Navigation)- INSIDE introduces the most advanced indoor navigation solution that will make your visitors feel right at home from their very first step. Our service is accessible to everyone, wherever they go.
SkyGiraffe- (Mobile Enterprise Platform)- SkyGiraffe empowers enterprises to fully utilize and mobilize their data by providing valuable information to increase workforce productivity. We do this by providing the integrated tools to make it exceptionally easy to perform anywhere and anytime.
Yotpo- (Product Reviews)- Yotpo is a plug and play social reviews solution for e-commerce websites. Yotpo is focused on providing the best social review experience for every website in the world.
Further information about the UK Israel Tech Hub
The UK Israel Tech Hub was launched in October 2011 at the British Embassy Israel. The Hub helps drive economic growth in both countries by helping British companies partner with the best of Israeli innovation. The goal is to create partnerships in which British companies help Israeli innovation go global, and Israeli innovation gives British companies a global competitive edge.
The Economic & Trade Mission at the Embassy of Israel, London
The Economic & Trade Mission at the Embassy of Israel, London, represents Israel's Ministry of Economy in the UK. Through a focus on the strengths and requirements of both British and Israeli markets, the Economic & Trade Mission work to develop strategic bilateral partnerships, identifying exciting new opportunities for collaboration in business and trade.
Further information about Israel export Institute
The Israel Export and International Cooperation Institute (IEICI) was established in 1958 as a non-profit organization by the government of Israel and the private sector. IEICI promotes Israeli goods and services exports, and trade relations, cooperation and strategic alliances with overseas companies. IEICI provides services to thousands of Israeli exporters.
Published 12 February 2014