3 RIFLES remember colleagues lost in Afghanistan
Over 400 members of 3rd Battalion The Rifles (3 RIFLES) Battle Group marched along Colinton Road in Edinburgh this morning to remember their colleagues who did not return from their recent deployment to Afghanistan.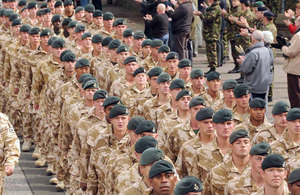 The soldiers marched from Redford and Dreghorn Barracks to Colinton Parish Church for a memorial service to honour those that died during the battle group's six-month tour of Afghanistan from October 2009 to April 2010.
Several thousand onlookers applauded the troops as they marched from their barracks to the church accompanied by the Band and Bugles of The Rifles and the Band of The Royal Regiment of Scotland.
During their deployment, the battle group, which comprised 3rd Battalion The Rifles and B Company of 1st Battalion The Royal Regiment of Scotland, were in the Sangin area of Helmand province.
30 members of the 1,400-strong battle group were lost.
The Sangin area of Helmand is widely regarded as one of the most difficult areas of operation for International Security Assistance Force troops in Afghanistan.
3 RIFLES worked with the Afghan National Army and Afghan National Police to provide security in the area.
3 RIFLES have now been replaced in Sangin by the Royal Marines of 40 Commando.
Following today's march and service the soldiers will return to the streets tomorrow, Saturday 8 May 2010, to say thank you to the people of Edinburgh for their support while they were away in Afghanistan by marching down the Royal Mile from Johnston Terrace to Holyrood Palace at 1030 hrs.
Published 7 May 2010