3 RIFLES first English battalion granted Freedom of Edinburgh
Soldiers from 3rd Battalion The Rifles (3 RIFLES), recently returned from Afghanistan, marched through Edinburgh on Saturday after becoming the first English battalion to be granted the Freedom of the City.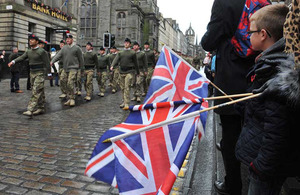 3 RIFLES returned in October from a demanding six-month tour in Helmand province on Operation HERRICK 16, as part of 12th Mechanized Brigade, having carried out a variety of tasks which included the training and mentoring of the Afghan National Security Forces.
On Saturday, 3 November, the battalion's commanding officer, Lieutenant Colonel Charlie Maconochie, led his men through the streets of Edinburgh, past the Lord Provost, and down to Holyrood, before returning to Redford Barracks, where the soldiers received their Afghanistan Operational Service Medals.
Lt Col Maconochie said:
I am delighted that 3rd Battalion The Rifles are receiving the Freedom of the City of Edinburgh. It is a great honour and privilege that the council and the people of Edinburgh have decided to bestow such a high accolade. We are hugely proud of our association with Edinburgh and view this very much as our home.
He continued:
The battalion deployed on operations to Afghanistan in March this year, returning throughout October. Receiving this civic award shows the soldiers how much their efforts are appreciated by the people of Edinburgh, something every Rifleman will be immensely proud of. We are extremely grateful to the local community in Colinton and Edinburgh for all the support we received during the tour.
The homecoming parade gives families, friends and supporters a chance to see my Riflemen receiving thanks from their local community. The soldiers are now looking forward to a well-earned break with their loved ones after a challenging but hugely successful deployment.
Sadly, the battalion lost Lieutenant Andrew Chesterman on 9 August 2012. Lt Chesterman was commanding a vehicle patrol in the Nad 'Ali district of Helmand province when the lead vehicle struck an improvised explosive device. As he moved forward to take control of the situation the patrol was engaged by insurgent small arms fire and Lt Chesterman was shot and later died at Bastion Hospital.
Lt Col Maconochie said:
Lieutenant Chesterman was an outstanding Rifles officer and always led from the front. His death has left a huge hole in the battalion.
Edinburgh's Lord Provost, Donald Wilson, said before the parade:
Conferring the privilege upon this fine and historic battalion is a clear and fitting demonstration of Edinburgh's steadfast support for the brave men and women who put their lives at risk in service of this country.
"It will be my honour to welcome the 3 RIFLES home and to receive their salute during Saturday's parade. I'm quite sure that the people of Edinburgh will turn out in large numbers to show their gratitude and support."
Published 5 November 2012