3 PARA troops educate Afghan civilians in perils of IEDs
Locals in the northern Nad 'Ali area of Helmand province are being taught life-saving skills to spot Taliban bombs, thanks to an education programme organised by British paratroopers and their Afghan National Army (ANA) colleagues.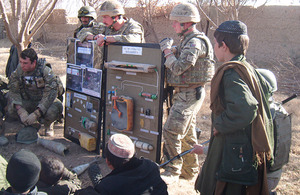 Colchester-based soldiers of 3rd Battalion The Parachute Regiment (3 PARA) are working alongside members of the UK's Counter-IED Task Force to run the lessons, which are led by ANA bomb disposal chief Lieutenant Abdul Ghani. The aim is for the whole community to know how to spot the tell-tale signs of an insurgent-placed improvised explosive device.
Afghan civilians are regularly killed or seriously injured by these devices and the British and Afghan troops in the area - who have got to know the local people well through their regular patrolling - organised the lessons after a group of children playing on a road were injured in a recent explosion.
The gatherings have the positive side-effect of bringing local people together and enabling soldiers and elders to work side by side to better improve the relationship that is essential for security and development.
As well as public meetings aimed at all age groups, the initiative has also taken the troops into schools where special lessons are laid on for children.
Lieutenant Austin Chamberlain of 3 PARA said:
The aim of this work has been to make local communities aware of the threat that is posed by IEDs - after all, they are the ones most affected by these devices. Holding public 'shuras' and going into schools is the best way of getting across this safety message to people of the area.
When insurgents lay these IEDs, they don't care who they kill with them. More often than not, it is ordinary local Afghan people, trying to get on with their daily lives, who are the victims. We're doing our best to counter that and, we hope, saving a great many lives.
Sergeant Tim Gort of the UK Counter-IED Task Force added:
Teaching the children is a good opportunity to capture the audience whilst they are still young and enthusiastic. It also provides a good opportunity for the children to meet us and, in particular, an Afghan National Army officer who is a superb role model for them.
Published 28 February 2011