3 PARA return to Helmand town to recruit police officers
After clearing insurgents from Naqilabad Kalay in Helmand last year, soldiers from 3rd Battalion The Parachute Regiment (3 PARA) have returned to the town to recruit the next generation of police officers.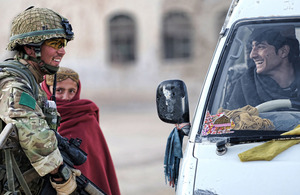 3 PARA, who are responsible for security in the northern Nad 'Ali area of Helmand province, literally secured peace overnight in the town in November 2010 and are now patrolling the town's streets again to sign up recruits for the Afghan National Police (ANP).
While 3 PARA continue to play a key role in safeguarding this area and keeping insurgent activity at bay, a key part of their role is mentoring and training their Afghan counterparts.
When they cleared Naqilabad Kalay in November, Afghan troops were put at the forefront of the operation and given leadership responsibilities, under the mentorship of the Paras.
In the long term, it will be soldiers from the Afghan National Army and officers from the ANP who will keep the peace in Helmand, and steady recruitment is an essential element of success.
Lieutenant David Donnelly, 3 PARA spokesman, said:
From traditional war-fighting one month to recruiting police officers the next, this tour could not be more diverse for 3 PARA.
The challenges our men face are wide-ranging and not always what people would expect from the Army, but they approach every task with the level of professionalism that is expected of them.
Lieutenant Colonel David Eastman, spokesman for Task Force Helmand, said:
The Afghan National Police represent the future of security in Helmand's urban areas and we are making great strides. Since opening a little over a year ago, the Helmand Police Training Centre has seen more than 2,000 officers graduate.
Recruitment is also a key effort, so we can ensure that communities are protected by their own people and can be confident of lasting security in the long term.
The Paras aim to find up to 40 suitable local people to volunteer to be trained at the Helmand Police Training Centre in Lashkar Gah to enable them to return to their community and join the police force.
Published 26 January 2011