2nd Battalion The Parachute Regiment return to Afghanistan
Over 500 soldiers from 2nd Battalion The Parachute Regiment (2 PARA) were preparing to leave Merville Barracks in Colchester last week for a six-month tour of Afghanistan.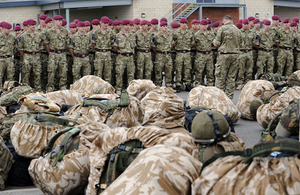 2 PARA and a range of arms and services from the Army will form the 2 PARA Battle Group which will be a major part of 16 Air Assault Brigade on Operation HERRICK 13.
2 PARA will replace 1st Battalion The Royal Gurkha Rifles who are now coming to the end of their six-month deployment.
This will be the second tour for the regiment who last deployed in 2008.
The role of the 2 PARA Battle Group will be to provide direct military support to the Afghan National Army and Afghan National Police by embedded partnering, training and mentoring.
This will prepare the Afghan National Security Forces (ANSF) for the job of dealing with the insurgency independently once the conditions are right for ISAF forces to finish their involvement in Afghanistan.
The 2 PARA Battle Group will continue to protect the Afghan people and work with the ANSF, local government and other civilian agencies to enable local stabilisation efforts to take effect.
Private Ian Spink, who was with the regiment on the 2008 tour and has also served in Iraq, said:
I learnt the Pashtu language on my previous tour and kept it up when I got back, so this tour I will be able to communicate with the locals a lot easier.
It's the waiting to go I dislike. Once you are out there it's not too bad. Of course you have bad times, but you have your mates to pull you out of it. You certainly appreciate what you have at home a lot more.
I have told the guys that are going out for the first time not to worry. Those of us who have deployed before have been like a guiding rope, we know what to expect and can pass on our experience. We're bloody awesome and we will do a great job.
For Privates Aaron Macfadyen and Aaron Stone this will be their first tour. Private Macfadyen said:
I'm feeling optimistic. We've been training a long time, now we all just want to get out there and get on with the job.
Private Stone added:
I'm excited about getting out there. It's a chance to do what we've trained for.
Territorial Army soldier Private Geoff Dunn, a member of 4th Battalion The Parachute Regiment (4 PARA), is feeling positive about the tour.
An ex-regular with 2 PARA he said:
We've had excellent build-up training. Having been a regular soldier I have served on ops before, but I haven't done a hot tour for a while.
Married to Alice with 16-year-old twins Bill and Joe, he added:
The day you go is always difficult. I thought it would get better as you get older but it doesn't.
The Commanding Officer of 2 PARA, Lieutenant Colonel Andrew Harrison, said:
The Battle Group is looking forward to the professional challenge and is looking forward to the deployment. Everyone now wants to get on with the job.
This deployment is fundamentally different to the last two the battalion has been in. The differences from Sangin [HERRICK 8] are considerable; this is not only a winter tour but the terrain is different.
The role of the Battle Group is multifaceted. One of the key things we will be doing is training and mentoring ANSF. This is key to 16 Brigade's role over the next six months.
There will also be engagements with the Taliban who will try to stop us working with the security forces and also intimidating the local population. We will also be assisting with the reconstruction and development.
Published 21 October 2010