Press release
£290 million for new leading edge research facilities
New university and business partnerships are receiving over £290 million of public and private investment to drive innovation and growth.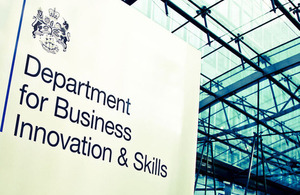 Five new university and business partnerships are receiving over £290 million of public and private investment in research projects to drive innovation and growth, the Chancellor George Osborne announced today.
The projects will focus on physical sciences, medical research, advanced materials, pharmaceutical manufacturing and advanced manufacturing. They will tackle global challenges like developing new treatments for cancer and ensuring advanced materials can cope under harsh conditions, including difficult to access oil and gas reservoirs.
This is the latest round of projects from the £300 million UK Research Partnership Investment Fund, bringing the total number of winners to 20. Successful universities have secured at least double that amount of investment from businesses or charities, together delivering more than £1 billion of new funding for research.
The Chancellor of the Exchequer said:
The spending review is about making choices, and for me science is a personal priority.
By bringing together our Nobel Prize winning scientists, our world-class companies and our entrepreneurial start-ups, we can drive innovation and create the economic dynamism Britain needs to win in the global race.
We are making difficult decisions on things like welfare so that we can invest in areas like science.
And today, I can announce five new projects through our £300 million UK Research Partnership Investment Fund - using public money to secure private investment so our world-class science also delivers jobs and growth.
Minister for Universities and Science David Willetts said:
The UK's world-class universities are at the forefront of our economic recovery. It's vital we do everything we can to encourage collaboration with the private sector and boost funding for research. These excellent projects will not only deliver new knowledge and applications for industry, but will accelerate growth and foster innovation between the research base and business, keeping the UK ahead in the global race.
Our £300 million investment has secured over £855 million from business and charities - a total investment of £1.15 billion. This is an extraordinary result, far exceeding the required private to public funding ratio of two to one.
The five projects, representing £72 million of public support and attracting £219 million of additional private investment, are:
A £33 million partnership between UCL and the Royal Free London NHS Foundation Trust in the Institute of Immunity and Transplantation. This will enable world-leading research and clinical trials to develop new treatments and patient therapies for a range of chronic diseases, such as cancer, HIV and diabetes.

A £117 million partnership between the University of Manchester, BP plc, Rolls-Royce, AMEC, Sellafield, National Nuclear Laboratory, FEI Company, Xradia, Rapiscan Systems, AREVA, Westinghouse, EDF and TISICS to establish the Multidisciplinary Characterisation Facility. This will accelerate research into advanced materials that can operate safely under increasingly harsh conditions, such as the extraction of difficult to access oil and gas reservoirs or aero engines operating at higher temperatures.

A £63 million partnership between the University of Cambridge, the Winton Programme for the Physics of Sustainability, Hitachi Ltd, the Herchel Smith Trust Fund and others to build The Maxwell Centre. This will be a centrepiece for industrial partnership in the physical sciences on the West Cambridge Science and Technology campus, increasing collaboration with SMEs and acting as a hub for doctoral training.

A £34 million partnership between the University of Strathclyde, GlaxoSmithKline, AstraZeneca, Novartis, Cancer Research UK and others. It will build on the EPSRC Centre for Continuous Manufacturing and Crystallisation, a world-class facility to accelerate innovative technology delivery and establish new supply chains for medicines.

A £43 million partnership between the University of Sheffield's Advanced Manufacturing Research Centre and manufacturing companies to develop the AMRC Factory 2050. This will be the world's most flexible factory, capable of rapidly switching production between different high-value components and one-off parts. It will support innovation in advanced manufacturing and meet the future needs of the market by integrating research and industry collaboration.
UKRPIF is managed by the Higher Education Funding Council for England, in collaboration with the other UK higher education funding bodies, with proposals assessed by an independent assessment panel. It was first launched with £100 million of public finance in May 2012 and in response to the large number of high-quality bids, the government tripled the public support to £300 million in autumn 2012.
Sir Alan Langlands, Chief Executive of HEFCE, said:
These five projects highlight yet again the success that UK universities have in working with commercial partners and charities to raise funds and deliver vital initiatives to stimulate research in critical areas vital to the economy. In challenging times, the higher education sector consistently demonstrates its key role in delivering growth.
Notes to editors
to create the most competitive tax system in the G20
to make the UK the best place in Europe to start, finance and grow a business
to encourage investment and exports as a route to a more balanced economy
to create a more educated workforce that is the most flexible in Europe.
Work is underway across government to achieve these ambitions, including progress on more than 250 measures as part of the Growth Review. Developing an Industrial Strategy gives new impetus to this work by providing businesses, investors and the public with more clarity about the long-term direction in which the government wants the economy to travel.
Published 6 June 2013