Press release
250,000 more children living with both birth parents
A quarter of a million more children were living with both their birth parents in 2012 compared with 2011.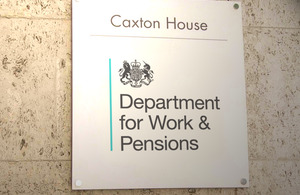 The proportion of children whose parents are raising them together rose from 67% in 2010/11 to 69% in 2011/12, according to the latest Family Stability Indicator. The indicator is one element of the government's Social Justice Strategy, aimed at supporting the most disadvantaged families and individuals.
The increase is more prominent for those children in low income households, with a 3 percentage point rise from 45% in 2010/11 to 48% in 2011/12. This means that around 75,000 more children in low income households are living with both their birth parents.
The indicator reflects the importance the government places on the family in providing a foundation for a child's development and success in later life.
Children growing up in unstable families, particularly those experiencing multiple family transitions, are at higher risk of developing social disadvantage in later life, such as issues with mental health, drug and alcohol abuse and lower educational attainment.
Secretary of State for Work and Pensions Iain Duncan Smith said:
We know that family breakdown – or a damaged parental relationship – can have a devastating impact on children's prospects as they grow up.

Whereas when families are strong and stable the children tend to have better life chances. That's why this government has taken action to support families and thereby give children the best start in life.

Today's figures show a rise in the number of children growing up with both their parents – and, encouragingly, the rise has been greatest amongst families on low incomes.

The savings from this kind of social change are significant, but the most important thing is that this will transform the lives of those families for the better.
As part of the government's long-term economic plan, a comprehensive and pioneering programme of support for families has been launched, which include:
introducing Marriage Tax breaks to reinforce the significance of marriage at the heart of a strong society

the Troubled Families Programme which has invested £448 million to support local authorities to turn around the lives of the most vulnerable families

plans to introduce a new system of shared parental leave and pay, allowing fathers to play a greater role in raising their child and helping mothers to return to work at a time that's right for them

affordable childcare and access to flexible working, helping families to maintain a work/life balance – £200 million additional investment in Universal Credit will allow claimants working less than 16 hours to claim support with childcare costs for the first time

supporting couple relationships via a dedicated fund of £30 million for relationship support over the Spending Review period (2011-2015) – initial evaluation of the interventions has shown a significant return on investment

launching the CANparent Trial, offering free universal parenting classes to parents of children aged 0 to 6 in Middlesbrough, Camden and High Peak in Derbyshire – CanParent has cost £5 million and it is estimated over 50,000 parents will use it by March 2014
Investing £14 million in the Help and Support for Separated Families initiative, directing parents to the support they need during and after a separation. The focus is on encouraging and supporting separated parents to reduce conflict and work together on a range of issues in the interests of their children.
Early progress on the family stability indicator also already show that our free advice services have been used by over 12 million parents in England alone, alongside over 20,000 couple counselling sessions offered (rising to 63,000 by March 2015), and help for 12,000 families with disabled children to maintain stronger relationships.
The Social Justice strategy progress report states that this choice of indicator should not be interpreted as saying lone parents and step families cannot provide high levels of love and support – all types of family structure have the potential to provide the stability that is vital for enabling good outcomes.
The government is currently undertaking a review of all available evidence relating to family stability to better understand the drivers behind stability and breakdown, the effectiveness of current policy and whether more action needs to be taken.
The Secretary of State launched the review on 6 December 2013 at the Marriage Foundation Conference. An invitation for evidence contributions has recently closed, and DWP is currently working across government to develop recommendations for further measures to support family stability.
The review and the indicator form part of the government's Social Justice strategy, launched in March 2012, setting out the government's vision for addressing the causes of multiple-disadvantage through early intervention and focusing support on recovery and independence.
As part of the strategy, in October 2012, DWP set out 7 main indicators to identify where progress is being made on a practical level. The main indicators include:
family stability
worklessness
drug and alcohol addiction
promoting social investment
More information
Read The Social Justice outcomes framework: family stability indicator
Contact Press Office
Media enquiries for this press release – 0203 267 5161
Press Office
Caxton House
Tothill Street
London
SW1H 9NA
London Press Office (national media and London area enquiries only – not questions about personal claims) 020 3267 5144
Out-of-hours (journalists only) 076 59 108 883
England and Wales (local media enquiries) 029 20 586 then 097 or 098 or 099
Scotland (local media enquiries) 0131 310 1122
Follow DWP on:
Published 13 March 2014