Press release
208,000 people escape long-term unemployment thanks to the Work Programme
The Work Programme has helped 208,000 jobseekers to escape long-term unemployment and find lasting work.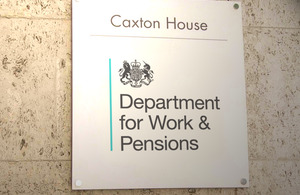 208,000 jobseekers have escaped long-term unemployment and found lasting work – normally at least 6 months – through the Work Programme.
New figures published today (19 December 2013) show Work Programme performance has improved since being launched in June 2011. Up until the end of September 2012, just under 55,000 had found lasting work. This has almost quadrupled to 208,000 people by September 2013.
In the last 3 months 40,000 people have found lasting work; this is an increase from the 37,000 in the previous 3 months.
Unlike the short term focus of previous schemes the Work Programme is about keeping people in work. The figures published today show that the vast majority of those who find sustained employment are remaining in work beyond the 6 month point.
The Work Programme was launched in June 2011 as part of the government's long-term economic plan to give tailored help to people who have already been out of work for some time, or are in danger of becoming long-term unemployed. Today's figures come on the back of official figures published yesterday by the Office for National Statistics which show that a record 30 million people are in work and that unemployment fell by 99,000 in the last 3 months.
Minister for Employment Esther McVey said:
It is really encouraging that increasing numbers of people at risk of long-term unemployment are finding lasting jobs thanks to the Work Programme, a key part of the government's long term economic plan to get people off benefits and into work.

With a record 30 million people now in work, we are determined to do everything we can to support those people who are hardest to help into work, and that is what the Work Programme is designed to do, whilst also being a good deal for the tax payer.
Work Programme providers get paid the majority of their money when someone has stayed in work for 6 months, or 3 months for some of the hardest to help, so today's figures don't tell the whole story. Many more people have started work but not reached the 6 month point yet. Industry figures published yesterday showed that 444,000 people had started a job thanks to the Work Programme.
By the end of September 2013, 1.25 million people had been referred to the Work Programme and been on it long enough to count in today's employment performance figures.
Work Programme providers have improved significantly, but we have always been clear that, while many Work Programme providers are performing well, others are lagging behind. That is why, in order to drive up performance, help as many people into work as possible, and give the best value to the taxpayer, from August this year we began referring more claimants to the better performing providers.
Case study
Tom, 20, from Cumbria was helped by Shaw Trust
Tom has Aspergers syndrome which makes social interaction difficult. He thought he would never be able to hold down a customer facing position.
With the help of the Work Programme he began a supported work experience placement at Sainsbury's, which resulted in a permanent position. He is now saving up to buy his own house.
Tom said:
I have gained lots more confidence from working here and feel it has helped me overcome my condition.
More information
The Work Programme was launched in June 2011 and is aimed at those at risk of long-term unemployment. Providers are paid according to results to get people into work, with extra incentives to support the hardest to help.
Providers have flexibility to innovate and to design support that addresses the needs of the individual and the local labour market, rather than having to follow one size fits all processes. They get a small amount of money up front but most payment comes after someone has been in work for up to 6 months, and extra payments for each month afterwards.
Once referred, claimants remain on the Work Programme for 2 years. Even after a participant has started a job their provider will offer them in-work support for the balance of their time on the programme.
Outcome payments are usually made after someone has been in work for 6 months, or 3 months in the case of the very hardest to help.
Read the Work Programme official statistics
Contact Press Office
Media enquiries for this press release – 0203 267 5161
Press Office
Caxton House
Tothill Street
London
SW1H 9NA
London Press Office (national media and London area enquiries only – not questions about personal claims) 020 3267 5144
Out-of-hours (journalists only) 076 59 108 883
England and Wales (local media enquiries) 029 20 586 then 097 or 098 or 099
Scotland (local media enquiries) 0131 310 1122
Follow DWP on:
Published 19 December 2013