2019 Inventory of UK Radioactive Waste published
The UK Radioactive Waste Inventory is the latest public record on sources, quantities and properties of radioactive waste and materials in the UK.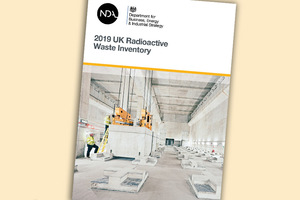 Updated every three years, the Inventory is compiled by the Department for Business, Energy and Industrial Strategy (BEIS) and the Nuclear Decommissioning Authority (NDA).
The Inventory provides up-to-date information about radioactive waste to:
enable the UK to meet international reporting obligations
inform policy and strategy development
aid radioactive waste and material management planning
support stakeholder engagement
Information collected for the 2019 Inventory is presented in a suite of four reports:
2019 UK Radioactive Waste Inventory
2019 UK Radioactive Material Inventory
2019 UK Radioactive Waste Detailed Data
2019 Summary of UK Radioactive Waste and Material Inventory for International Reporting.
The Radioactive Waste Inventory presents information about the volumes and characteristics of radioactive wastes in stock at 1 April 2019 and projected future arisings. An explanation of key changes since the 2016 Inventory is provided. The report also gives supporting information on the sources, categories and management of radioactive wastes in the UK.
The Inventory provides a summary of radioactive wastes and materials not reported in the 2019 UK Radioactive Waste Inventory. This includes nuclear materials not currently deemed to be waste (some spent fuels, uranium and plutonium). It also includes potential radioactively contaminated land and other materials that are not yet sufficiently well characterised to be included in the Radioactive Waste Inventory.
All documents have been prepared using information supplied by the radioactive waste producers and custodians.
Read these reports in full on the UK Radioactive Waste Inventory website
Published 10 January 2020