News story
2016 Queen's birthday honours recognise 154 military and civilians in Defence
Service personnel and defence civilians are to be awarded honours for their work keeping Britain safe.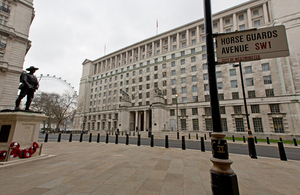 113 UK service personnel have been granted state honours by Her Majesty The Queen in the annual birthday honours list.
Amongst them is Major Andrew Todd of the Royal Gurkha Rifles who helped rescue climbers from Mount Everest following a massive earthquake in Nepal last April. He was deputy leader of the G200 Everest Expedition, the attempt to put the first serving Gurkha on the summit to mark the 200th year of Gurkha service to the Crown, when the quake struck on 25 April causing an avalanche on the mountain which killed 22 climbers.
Canterbury-born Major Todd and his fellow Gurkhas, many of whom had families in devastated regions, stayed to help rescue people from the mountain and help the clean-up operation. He said:
What we did was no different from what any soldier would have done. We stayed because we are British soldiers and that's what they do. We had a duty to do what we did.
You can read more of his story here.
Others listed include RLC Reservist Major Carol Miller, for her dedication as Unit Welfare Officer to the 3,500 staff, soldiers and families at ATC Pirbright, on cases from suicide and domestic abuse to chronic debt and homesickness, and WO1 James Lang of the Royal Army Medical Corps, recognised for his support to the 1 PARA battle-group in Iraq on Op TELIC, fusing his infantry experience with his combat medic skills.
41 civilians have also been honoured either for work in the Ministry of Defence or in other aspects of UK Defence, including scientists Justin Fellows and Martin Greenstreet, of the Defence Science and Technology Laboratory (Dstl).
Justin Fellows is a lead scientist in novel and improvised explosives, influencing government policy on air passenger safety in the UK and with our allies, and the technical lead in creating the UK Home Made Explosives centre of excellence. Martin Greenstreet leads a world-class team of scientific and engineering specialists providing complex, bespoke technical solutions to meet specific operational requirements. You can find out more about their awards and their reactions here.
The 154 Defence birthday honours for 2016 are listed below; the full list is available here.
ROYAL NAVY
Promotions in and Appointments to the Military Division of the Most Honourable Order of the Bath
As Knight Commander
Lieutenant General Gordon Kenneth MESSENGER
As Companions
Rear Admiral Paul Martin BENNETT
Rear Admiral Henry Hardyman PARKER
Rear Admiral Robert Kenneth TARRANT
Promotions in and Appointments to the Military Division of the Most Excellent Order of the British Empire
As Knight Commander
Vice Admiral Ian Fergus CORDER
As Commanders
Rear Admiral Simon James ANCONA
Rear Admiral John Matthew Leonard KINGWELL
Commodore Jeremy Conrad RIGBY
As Officers
Colonel Daniel BLANCHFORD
Captain Richard Patrick Anthony DAWS
Brigadier Ian Philip HUNTLEY
Commodore Andrew Charles JAMESON
Commodore Gary Brian SUTTON
As Members
Lieutenant Commander Steven David BANFIELD
Commander Paul Henry Neil DOWELL
Warrant Officer 1 (Air Engineering Technician) John Christopher ELLIOT
Warrant Officer 1 Engineering Technician (Marine Engineering) Lee HOLMAN
Petty Officer (Communication Information Systems) Stephen William HOYLAND
Warrant Officer 1 Logistics (Supply Chain) Lynne Deborah JOYCE
Chief Petty Officer Logistics (Writer) Mark LAMBERT
Captain Scott Adam MOYIES
Lieutenant Commander (Acting Commander) Paul John NEWALL
Major Nicholas John O'SULLIVAN
Chief Petty Officer Coxswain (Submarines) Steven RAFFERTY
Commander Douglas John WARD
Promotions in and Appointments to the Civilian Division of the Most Excellent Order of the British Empire
As Officer
Captain, Royal Fleet Auxiliary David John BUCK
Associate of the Royal Red Cross 2nd Class
Petty Officer Naval Nurse, Queen Alexandra's Royal Naval Nursing Service Rebecca WARD
Queen's Volunteer Reserves Medal
Commander, Royal Naval Reserve James Seymour Lionel COHEN
ARMY
Promotions in and Appointments to the Military Division of the Most Honourable Order of the Bath As Knight Commander
Lieutenant General John Gordon LORIMER
As Companions
Major General Nicholas David ASHMORE
The Reverend Dr David George COULTER
Lieutenant General Timothy Buchan RADFORD
Promotions in and Appointments to the Military Division of the Most Excellent Order of the British Empire
As Knight Commander
Lieutenant General Andrew Richard GREGORY
As Commanders
Brigadier Christopher John GHIKA
Brigadier Robert Jason WALTON–KNIGHT
Major General Robert Harry TALBOT–RICE
Brigadier David Graeme ROBSON
As Officers
Major James Michael Henry ALLEN
Lieutenant Colonel Garry Royston BLEWITT
Lieutenant Colonel James Peter COOK
Colonel Simon Peter FITZGIBBON
Lieutenant Colonel Christopher PALMER
Lieutenant Colonel Richard Philip SMITH
Lieutenant Colonel Giles Matthew TIMMS
As Members
Major Devendra ALE
Captain Michael George Hugh ALLAN
Major Michael James ATKINSON
Acting Major Matthew John BARD
Lieutenant Colonel Stuart CATTERMULL
Major Graham Jackson CLARKE
Major Fraser Graham Barry CUTTLE
Major Andrew Raymond DAVIES
Warrant Officer Class 2 Richard Jimmy DAVIES
Major Arthur David James DAWE
Major Andrew Lawrence DUGGAN
Chaplain to the Forces (3rd Class) John Charles DUNCAN
Major William Leslie EDEN
Major Adam Nicholas Baron FODEN
Captain Ceri Lee GREEN
Major Nigel Lionel GREENWOOD
Major Rachel GRIMES
Captain Carlos Anthony HAMLET
Corporal Robert Ian HARPER
Major Mark Daniel HENDRY
Acting Warrant Officer Class 2 Gregory Ian JEX
Major Malcolm James Ross JUNOR
Major Christopher Matthew LANE
Warrant Officer Class 1 James LANG
Warrant Officer Class 1 Alexander William LITTLE
Major John Samuel Thomas MATEER
Captain Alan Graham McEWEN
Warrant Officer Class 2 David Benjamin McFARLAND
Acting Lieutenant Colonel Robin Ian MELLING
Major Carol MILLER
Major Paul MORT
Lieutenant Colonel William George PRIOR
Major Yambahadur RANA
Staff Sergeant Catharine Ann REEVES
Warrant Officer Class 2 Matthew Stuart SEMPLE
Captain Karen TAIT
Major Andrew Patrick TODD
Major Ben WALTERS
As an Ordinary Associate of the Royal Red Cross, Second Class
Major Sara Bernice HAWKINS
Major Mari Louise RODEN
Captain Harriet Ann SLOSS
Major Sarah Kate THOM
Queen's Volunteer Reserves Medal
Sergeant John Rowland BUTLER
Sergeant Peter McALINDON
Lieutenant Colonel Julian Mark PICTON
Colonel Stephen William RAYSON
Warrant Officer Class 2 Neil STEVENS
ROYAL AIR FORCE
Promotions in and Appointments to the Military Division of the Most Honourable Order of the Bath
As Companions
Air Vice-Marshal David John STUBBS
Promotions in and Appointments to the Military Division of the Most Excellent Order of the British Empire
As Commanders
Group Captain Paul David Kennett
As Officers
Wing Commander Jonathan FARROW
Group Captain Timothy David NEAL-HOPES
Wing Commander Mark Wylie SMITH
Wing Commander Thomas Stowell TALBOT
Group Captain Gregory Patrick UNDERHILL
Wing Commander Katherine Patricia WILSON
As Members
Corporal Richard David CAIN
Squadron Leader Nicholas James CARD
Flight Lieutenant Andrew William DAVIDSON
Squadron Leader Andrea Louise DEVLIN
Flight Sergeant Stephen Thomas DINAN
Squadron Leader Kevin John GREEN
Warrant Officer Derek Richard MCDONOUGH
Wing Commander David Kenneth MILLER
Wing Commander Jamie John MILLER
Flight Sergeant James Temperly MILLER
Squadron Leader David Julian Rhys MORRIS
Corporal Helen WAUGH
Civilians
Commander, Order Of The British Empire (CBE)
John Raymond Barnett CRISFORD
Richard Andrew JONES
Mrs Julie WELHAM
Officers, Order Of The British Empire (OBE)
Miss Angela BARKE
Kenneth BRADLEY
Marcus Lindsay MacDonald BRUTON
Justin FELLOWS
Martin GREENSTREET
Paul Stuart HANCOCK
Mrs Clare STOCKS
Members, Order Of The British Empire (MBE)
Jonathan BAINS
David John BATCHELOR
Cdr (Retd) Peter Marshall FLUTTER, AFC
Mrs Deborah Jayne HAWKES
Mrs Patricia KELLY
Mrs Tracy KYFFIN
Brian David LAMBOURN
Charles MACLOUD
Bhupendra Harji MAGUDIA
Richard Norman McKENZIE
Mrs Elizabeth MOORE
John Frederick NEWMAN
Ms Angelina Carol QUAMINA
Mrs Helen Anne RAYSON
John RODELL
Mrs Linda Ann SWALWELL
Mrs Flora Margaret WALKER
Antony Richard Duncan WELHAM
Dr Paul Raymond WOOD
The British Empire Medal (BEM)
Mark Peter AIREY
Mrs Nicola BATT
James Joseph COOPER
Lee Brendan DAWSON
Miss Sarah Louise HOLMES
Eric HOWDEN
Mrs Ruth Drusilla Janette LEWIS
Mrs Gwen McMICHAN
Ian Stuart McMICHAN
Mrs Yvonne Alison MULHOLLAND
Mrs Veronica Ann TUPPEN
Captain (Rtd) Baden Kenneth WILSON
Published 11 June 2016