News story
2016 Clinical Excellence Awards round opens
The latest round of National Clinical Excellence Awards opened on Friday 11 March 2016 and will close at 5pm on Monday 16 May 2016.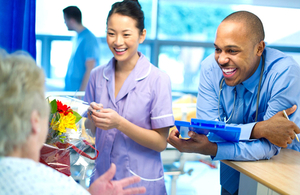 The onus is on you, as the applicant, to submit your completed online application form to ACCEA by the allotted date and time. To do this you must click on: submit to ACCEA. Failure to do so means that your application will not be accepted for the 2016 National Awards Round.
All applications, new or renewal, must be made on the online system. The Advisory Committee on Clinical Excellence Awards (ACCEA) has published guidance for applicants, assessors, nominators and employers.
Clinical Excellence Awards recognise and reward NHS consultants and academic GPs who perform 'over and above' the standard expected of their role. The Advisory Committee on Clinical Excellence Awards gives awards for quality and excellence, acknowledging personal contributions.
The number of new national awards in the 2016 round will remain at 300 for England.
Published 11 March 2016