World news story
2015 UK-China Year of Cultural Exchange
2015 promises to be a flagship year for the UK in China and for China in the UK, with the first ever UK-China Year of Cultural Exchange.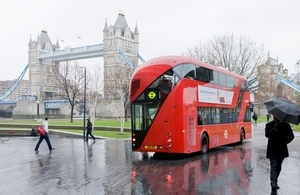 Underpinned by a government-to-government agreement set out at the UK-China Summit in London in 2014, the 2015 UK-China Year of Cultural Exchange will showcase the very best of UK culture in China and Chinese culture in the UK.
The UK is renowned for its experience and reputation in fostering creativity across all industry sectors to drive growth and investment. In fact, the UK's creative industries generate a staggering £8 million pounds an hour, and grew almost 10% in 2012, outperforming all other sectors.
The 2015 UK-China Year of Cultural Exchange is a unique opportunity to further deepen and strengthen the UK's existing relationship with China across the arts and creative industries, and to build on long-standing foundations of mutual respect and appreciation for our long and rich cultural histories. Our two cultures continue to inspire innovation and creativity, and audiences in both countries will enjoy many opportunities to explore what this creative partnership means in the 21st Century.
The Year will comprise two 'seasons' of culture – a UK season in China in the first half of 2015 and a China season in the UK in the second half of 2015.
The theme for the UK season in China will be Next Generation. It will see a carefully curated series of contemporary, adventurous, multi-disciplinary and innovative works, with digital media at the heart.
Groundbreaking digital arts will push creative boundaries, whilst the launch of a major online arts portal will see audiences actively engaging through a variety of integrated platforms.
Carma Elliot, Minister, Cultural and Education Section of the British Embassy, said:
Our plans for 2015 are ambitious. The potential reach of being a partner for 2015 will be enormous: we will be working with major media partners with outreach to hundreds of millions in China, the UK and globally. It promises to be a flagship year, offering significant opportunities for us both to build on new and existing partnerships together.
With up to 30 projects across China, an extensive digital offer and major media partners, the Year will bring some of the best of established UK talent to China as well as look to the next generation. Hundreds of millions of people in China, the UK and globally will have access to the very best of British arts.
For more information about the 2015 UK-China Year of Cultural Exchange and how you can get involved, contact nick.marchand@britishcouncil.org.cn
Published 9 January 2015