News story
2015 birthday honours for service personnel and defence civilians
108 UK service personnel have been granted state honours by Her Majesty The Queen in the annual birthday honours list.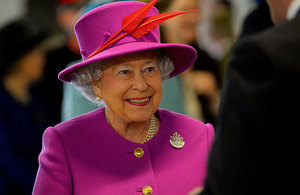 53 civilians have also been honoured either for work in the Ministry of Defence or in other aspects of UK Defence.
The 161 defence personnel named in the birthday honours list for 2015 are listed below; the full list is available on the Cabinet Office's website.
Royal Navy
Promotions in and Appointments to the Military Division of the Most Honourable Order of the Bath
As Companions
Rear Admiral Timothy Peter FRASER
Rear Admiral Clive Charles Carruthers JOHNSTONE
Lieutenant General Gordon Kenneth MESSENGER
Promotions in and Appointments to the Military Division of the Most Excellent Order of the British Empire
As Commanders
Brigadier Timothy John BEVIS
Commodore Jeremy Jonathan Frank BLUNDEN
As Officers
Commander (now Captain), Royal Navy John Paul BOWERS
Captain, Royal Navy Andrew Paul BURNS
Commander, Royal Navy Angus Nigel Patrick ESSENHIGH
Captain, Royal Navy Trevor James GULLEY
As Members
Warrant Officer Class 1 (Seaman) David John DEAKIN
Commander, Royal Navy David Leslie HEWITT
Lieutenant Commander, Royal Navy Bethan KITCHEN
Commander, Royal Navy Kerry Lewis MARMONT
Warrant Officer Class 1 Marine Engineering Mechanic (Marine Engineering Submarines) Gary NICOLSON
Warrant Officer Class 2 (now Acting Warrant Officer Class 1) (Air Engineering Technician) Mark PLUMMER
Lieutenant Commander (now Acting Commander), Royal Navy John Matthew PUNCH
Acting Lieutenant Commander, Royal Navy Paul Gary SIMPSON
Lieutenant Commander, Royal Navy Robert John Geoffrey TANTAM
Queen's Volunteer Reserves Medal
Chief Petty Officer (Mine Warfare) Thomas Mitchell DEWAR
Army
Promotions in and Appointments to the Military Division of the Most Honourable Order of the Bath
As Companions
Major General David Mark CULLEN, OBE, late Royal Regiment of Artillery
Lieutenant General Philip David JONES, CBE, late The Royal Anglian Regiment
Promotions in and Appointments to the Military Division of the Most Excellent Order of the British Empire
As Commanders
Colonel Robert Booth CALDWELL, late Royal Regiment of Artillery
Colonel Jonathan Charles CLASPER, late Royal Army Medical Corps
Brigadier Gary Colin DEAKIN, OBE, late The Duke of Lancaster's Regiment
Colonel Peter Francis MAHONEY, OBE TD QHS, late Royal Army Medical Corps
As Officers
Lieutenant Colonel Jonathan David BILLINGS, MBE, Royal Tank Regiment
Lieutenant Colonel Matthew Willard Louis BOTSFORD, MBE, 1st The Queen's Dragoon Guards
Lieutenant Colonel Benjamin James FITCH, Royal Corps of Signals
Lieutenant Colonel Alistair Stuart Kirman FOX, MBE, Corps of Royal Engineers
Colonel Dominic Paul FOX, MBE, late Royal Regiment of Artillery
Lieutenant Colonel Arwyn LEWIS, Corps of Royal Electrical and Mechanical Engineers
Lieutenant Colonel Mark Andrew POMROY, Adjutant General's Corps (Staff and Personnel Support Branch)
Lieutenant Colonel Peter Thomas QUAITE, Corps of Royal Engineers
Lieutenant Colonel Adrian Peter REILLY, The Royal Regiment of Scotland
Acting Colonel Andrew Stanley TAYLOR, Army Cadet Force
Lieutenant Colonel Simon Rupert WEST, Royal Regiment of Artillery
As Members
Major James William ALDRIDGE, Welsh Guards
Major Richard John Fellowes BAILLON, The Parachute Regiment, Army Reserve
Major Mark Rufus George BEYNON, The Royal Welsh
Acting Captain Samuel Harris CARRUTHERS, Army Cadet Force
Warrant Officer Class 1 Graham Steven CHIGNELL, Corps of Royal Electrical and Mechanical Engineers
Corporal Craig CLARK, Royal Corps of Signals
Major Nicholas David Guise COWLEY, The Queen's Royal Hussars
Lieutenant Colonel Mark Alan DAVIES, The Queen's Royal Lancers
Staff Sergeant Aaron DURHAM, Corps of Royal Engineers
Warrant Officer Class 2 David John ELLIOTT, Corps of Royal Engineers
Corporal Christopher Simon ELLIS, The Royal Logistic Corps
Chaplain to the Forces (3rd Class) Karl Frederick FREEMAN, Royal Army Chaplains' Department, Army Reserve
Major Christopher William GIBSON, Royal Army Medical Corps
Major Richard John HALL, The Yorkshire Regiment
Major Christopher Clive HEARN, Army Air Corps
Corporal David HERON, The Royal Logistic Corps
Captain Nicholas Spencer HOMER, The Royal Logistic Corps
Major Adrian Lawrence HUNTER, Coldstream Guards
Captain Michael JAMES, The Royal Regiment of Scotland
Major Sarah Louise JOHNSON, The Royal Logistic Corps
Major Caroline Joanna LEWIN, Royal Corps of Signals
Lieutenant Colonel Michael Duncan LEWIS, Corps of Royal Engineers
Acting Major Alexander Munro MACK, The Royal Regiment of Scotland
Lieutenant Colonel Peter McMILLAN, Corps of Royal Electrical and Mechanical Engineers
Warrant Officer Class 1 Paul MEADOWS, The Princess of Wales's Royal Regiment
Major Colin George MUNCE, The Royal Logistic Corps
Acting Lieutenant Colonel Mark Alexander NICHOLAS, The Royal Anglian Regiment
Lieutenant Colonel Jeffrey Edward PEARSON, Royal Army Medical Corps, Army Reserve
Major Kevin David ROGERS, Corps of Royal Engineers
Acting Lance Corporal Cayle Darren ROYCE, The Light Dragoons
Warrant Officer Class 2 Gavin James RUCK, Royal Regiment of Artillery
Major Roderick Mungo Templeton SHANNON, Scots Guards
Captain Richard David SOMERVILLE, Corps of Royal Engineers, Army Reserve
Lieutenant Colonel Charles Rupert Metrustry STORY, Corps of Royal Engineers
Captain Justin Stuart TAYLOR, Corps of Royal Engineers
Staff Sergeant Gareth Neill THOMAS, 1st The Queen's Dragoon Guards
Warrant Officer Class 1 Michael Spencer THOMPSON, The Rifles
Major Colin WOOD, The Parachute Regiment
Major Casanna Jane Helen WOOTTEN, Royal Corps of Signals
Royal Red Cross
As Ordinary Member of the Royal Red Cross, First Class
Colonel Karen Janette IRVINE, late Queen Alexandra's Royal Army Nursing Corps
As an Ordinary Associate of the Royal Red Cross, Second Class
Major Leigh Keiron KENWORTHY, Queen Alexandra's Royal Army Nursing Corps
Queen's Volunteer Reserves Medal
Captain Christopher Francis DUNN, The Parachute Regiment, Army Reserve
Brigadier William Joseph O'LEARY, TD DL, late Corps of Royal Electrical and Mechanical Engineers, Army Reserve
Warrant Officer Class 2 Christopher Michael POULTNEY, Royal Regiment of Artillery, Army Reserve
Colonel David Anthony REW, TD, late Royal Army Medial Corps, Army Reserve
Royal Air Force
Promotions in and Appointments to the Military Division of the Most Honourable Order of the Bath
As Companions
Air Vice-Marshal Peter Ronald EWEN
Air Vice-Marshal Graham Peter FARNELL OBE
Air Vice-Marshal Aroop Kumar MOZUMDER
Promotions in and Appointments to the Military Division of the Most Excellent Order of the British Empire
As Commanders
Group Captain Paul William ATKINSON
Air Commodore Neil McGregor CONNELL OBE
Air Commodore Gerard Michael David MAYHEW
As Officers
Wing Commander Paul Ernest Leonard BOWER Royal Air Force Volunteer Reserve (Training)
Wing Commander Stephen Robert CHAPMAN
Wing Commander Jonathan Blythe CRAWFORD
Group Captain Tamara Nancy JENNINGS
Wing Commander Mark David LEEMING
Wing Commander Ian Morton ROBINSON
Wing Commander Davendra Murray SHARMA
As Members
Squadron Leader Michael Jeremy Jean-Paul BURTON
Senior Aircraftman Lee Edward Lovelace COOPER
Corporal David DERBYSHIRE Royal Auxiliary Air Force
Chief Technician Derek James EDWARDS
Wing Commander Tracey Maria FARNDON
Flight Lieutenant Gareth William John HARE
Warrant Officer Thomas MCEWAN
Master Aircrew Aaron Martin NEAL
Squadron Leader Ritchie Nelson PAINE
Warrant Officer Graeme William SPARK
Master Aircrew Duncan Alexander TRIPP
Squadron Leader Peter VAUGHAN
As an Ordinary Associate of the Royal Red Cross, Second Class
Squadron Leader Susan POWER
Queen's Volunteer Reserves Medal
Sergeant Helena Joy THOMAS Royal Air Force Reserve
Civilians in defence
State Knight Bachelor
Bernard Peter GRAY for public service, especially to Defence
Companion, Order of the Bath
Peter Richard WORRALL, OBE for services to Defence
Miss Patsy WILKINSON for services to Defence
Officers, Order of the British Empire
Brigadier John Anthony ANDERSON for services to the Gurkha Regiment
Mark Edward ASTARITA for services to British Red Cross
John Dominic Mortimer FISHER for services to Armed Forces Personnel
Mrs Kathryn FORSYTH for services to Armed Forces families
Professor Christopher Gordon HODGE, FREng for services to Royal Navy engineering
Mrs Dorothy Mary HOLFORD for services to military aviation
Roderick Neil MALONE for services to Defence Acquisition
Timothy Fraser MARSHALL for services to Services and ex-Service personnel
Dr James McGILLY for services to Defence
Dr Carol Susanne McGOWAN for services to Armed Forces personnel
Miss Louise O'SULLIVAN for services to Defence
Steven WELLON for services to Defence
Members, Order of the British Empire
Dr Duncan ANDERSON for services in support of military operations
Mrs Margaret Ellen BALL for services to Armed Forces personnel
Miss Amanda Jane BUTCHER for charitable service
Mrs Elizabeth Ann CHAMBERS for voluntary service to the Sea Cadet Corps on Teesside
John Charles CHAPMAN for services to Defence Infrastructure
Trevor COX for services in support of military operations
Mrs Anne Everett DEANE for voluntary service to the British Red Cross
Major Patrick Michael Halliday DUNN for services to the Royal Marines
Miss Barbara EDWARDS for services to Armed Forces personnel
Lesley George GOODCHILD for services in support of the Royal Air Force
Mrs Fiona Mary Carr HAMILTON for voluntary service to the British Red Cross
Benjamin Charles Petre HANCOCK for voluntary service to the Royal British Legion
Mrs Kathleen Rebecca HARKER for services to Army Education
David Alan HILL for services to Defence
James Neil HOUSE for services in support of Service Personnel and families
Liam LEHANE for services to Defence
Mrs Catherine Elizabeth MACKINLAY for voluntary service to St John Ambulance
Scott McCULLOCH for services to Defence
Lt Colonel John Alexander POOLE-WARREN for services to the Army
John Leslie PORTCH for voluntary service to St John Ambulance
Michael Frank STARBUCK, BEM for services to Defence
Miss Kathryn STARTUP for services to Defence
The British Empire Medal
Norman BROWN for services to the Pioneer Regiment
Miss Edith Jean CALWAY for voluntary service to the RAF Association
Mrs Jacquelyn CARMICHAEL for services in support of Service Families
Squadron Leader David CHAPPELL, RAF Rtd for services to the RAF and to conservation
Edward Watkin EVANS for voluntary service to the Royal British Legion
Mrs Dorothy HUDDART for voluntary service to the British Red Cross
Allan Frederick JONES for voluntary service to the Sea Cadet Corps
Miss Mavis Sarah Eleanor KIRK for services to Defence and for community service
Mrs Hazel Olive KNOWLES for voluntary service to St John Ambulance
Sergeant Major Jonathan McDONALD for voluntary service to the Army Cadet Force
Mrs Jean Shirley NAPIER for voluntary service to SSAFA
Mrs Irene Mary Maud PHILLIPS for services to St John Ambulance and the community
Mrs Agnes Caldwell SMITH, TD for voluntary service to SSAFA
Ms Florence Dianne WILSON for services to Defence and for community service
Vartan Giaragos VARTOUKIAN for services to Armed Forces personnel
Mrs Veronica WOOTTON for services to RAF Leuchars personnel and families
Published 12 June 2015