World news story
2014: Ambassador's New Year Message
Tim Hitchens, British Ambassador to Japan, reflects on 2013 and looks ahead to a prosperous 2014.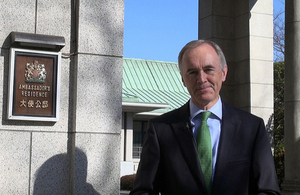 Tim Hitchens, British Ambassador to Japan, has released a new year message, looking back at one year as Ambassador; ahead to 2014; and wishing friends in Japan and around the world a happy new year from all at the British Embassy Tokyo and British Consulate-General Osaka:
"Looking back [to 2013], we celebrated the 400th anniversary of the opening of commercial relationships between the UK and Japan. We saw the visit to the United Kingdom of Prime Minister Abe and the signature of a number of really key agreements between our two nations and companies from both our countries.
2014 is looking like a great year as well. Both of our economies in Japan and Britain are recovering well after difficult times – Japan after 15 years of deflation, the UK after the worst recession since the world war. Trade, investment, research, development – these are the ways in which we can have sustainable growth going forward. With increasing investor confidence in both of our economies, and with negotiations going well between the EU and Japan on an Economic Partnership Agreement, there's never been a better time to be investing in both of our countries.
Meanwhile, the British government's GREAT campaign, launched to maximise the potential of the London Olympic and Paralympic Games, has been extended globally until 2018. In Japan, the GREAT campaign has brought together efforts to promote the diversity of modern British food and drink; British leadership in green technologies and tackling climate change; and British creativity in the fields of fashion, music and design.
Together with partners at the British Council and Visit Britain, this work will continue in 2014, including fresh collaboration born of London's Olympic legacy and Tokyo's Olympic future; cultural exchanges in the year celebrating the 450th anniversary of William Shakespeare's birth; and a focus on science and innovation - from hosting discussions on the use of science in government policy-making, to encouraging more UK-Japan research partnerships in medicine and pharmaceuticals.
View the video below to see Tim Hitchens' full new year message.
2014 New Year Message from Tim Hitchens, British Ambassador to Japan
Published 3 January 2014