Today marks exactly two years to go until the opening ceremony of London 2012.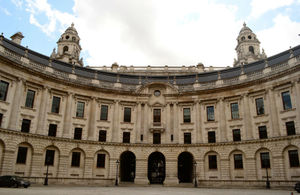 To celebrate, athletes and young people are joining Hugh Robertson, Seb Coe and Boris Johnson on the train from St Pancras International to Stratford International before taking a tour of the Olympic Park.
For the first time, they will step inside venues to witness first-hand the progress being made in construction, which is on time and on budget. 
Other activities will include:
young athletes joining multi-Olympic medallist Michael Johnson running inside the Olympic Stadium on a specially laid track
gold medallist cyclist Sir Chris Hoy welcoming visitors inside the Velodrome by cycling inside for the first time
former NBA star John Amaechi and young basketball players shooting the first hoop inside the Basketball Arena
Your Games
It's also time for you to start planning your Games.
Whether it is signing up for tickets, becoming a 'London 2012 Games Maker' volunteer or a 'London Ambassador', now is the time to start thinking about how to make the most of the summer of 2012. 
"There are two years to go until the Olympic Games begin and our message is simple: now is the best time to plan your Games," said Mr Coe. "We are well on track - the venues are nearing completion and our plans are coming together. Now it's the public's turn. How will you spend the summer of 2012? Whether it's buying a ticket, becoming a volunteer, being part of our education or culture programmes - there are hundreds of ways you can get involved."
Volunteering
The London 2012 Volunteer Programme opens today for specialist positions such as sports medicine doctors, anti-doping personnel and scoreboard operators.
General volunteering positions such as ticket checkers and uniform distributors, will open on 15 September. The organisers are seeking to recruit up to 70,000 volunteers.
"Two years to go and London 2012 is in excellent shape," said Mr Robertson. "Today we enter another new phase of London 2012 - bringing the Great British public on-board. Volunteers are the heartbeat of every Olympic and Paralympic Games and are crucial to their success. We need skilled and passionate people who have the commitment to make 2012 the best Olympic and Paralympic Games ever."
Published 15 February 2012