2012 Games ticket touts to be hit with £20,000 fine
Olympic and Paralympic Games ticket touts will be hit with fines of up to £20,000, Theresa May announced during a visit to the OIympic Park.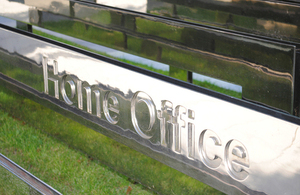 The government intends to increase the penalty for 'touting' - selling Olympic and Paralympic tickets in public, or in the course of business, without permission - from £5,000 to £20,000.
Tickets for the Olympics go on sale next week.  With nearly 11 million tickets ultimately available for the Olympic and Paralympic Games it is very different from other major sporting and cultural events - making it attractive to ticket touts.
Home Secretary Theresa May said: 'The 2012 Games will be a once-in-a-lifetime opportunity to experience the Games on home soil. By increasing the fines for touting we are sending a clear message to criminals and prospective criminals that it is not worth their while and they are not welcome.
'The focus of the government and everyone involved is to deliver a safe and secure Olympic and Paralympic Games that London, the UK and the world can enjoy. It will not be spoiled by ticket touts.'
Assistant commissioner Chris Allison, national Olympic security coordinator, said: 'We do not want our Games blighted by touts. My officers are working now to make the Olympics as hostile environment as possible for them, and increasing the penalty will help by sending a clear warning.
'Touts are part of organised criminal networks, often involved in other crimes, and we are committed to dismantling them layer by layer.
'Today, we have sent out warning letters to those who may try to illegally sell Olympic tickets, to warn them their card is marked and we are watching.'
LOCOG Chair Sebastian Coe said: 'We want to get London 2012 tickets into the hands of enthusiastic sports fans so that our venues are packed to the rafters at Games-time and provide a fantastic atmosphere for the athletes.
'The message is loud and clear that ticket touts are not welcome and will face large fines. We urge everyone hoping to come to the Games to sign up to our website at www.tickets.london2012.com and ensure that they are applying for tickets through the proper channels.'
Notes to editors
Touting Olympic and Paralympic tickets was made a criminal offence by the London Olympic and Paralympic games Act 2006, punishable by a fine of up to £5,000, to be increased to £20,000. An amendment to the Act will be laid before Parliament shortly.

The Metropolitan Police Service has a dedicated unit - Operation Podium - to tackle touts and Olympic related fraud. Since they were formed in June 2010 Operation Podium have made a total of 49 arrests for offences including touting, fraud and handling stolen goods.

The penalty only applies to selling tickets in a public place or in the course of business. LOCOG are operating an exchange system for those who wish to legitimately sell any unwanted tickets. 
4. Read the Olympic Safety and Security strategy on this website.
Published 10 March 2011