200 more police officers for Helmand
Another 200 police officers are about to begin patrolling the towns and villages of Afghanistan's Helmand province following the latest graduation from the British-run Helmand Police Training Centre.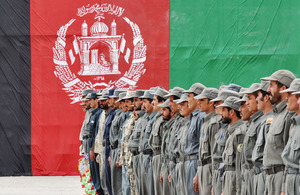 The school, which is run by soldiers from The Argyll and Sutherland Highlanders, 5th Battalion The Royal Regiment of Scotland (5 SCOTS), and officers from the Ministry of Defence Police, has been operating since 2009, in which time it has trained more than 2,000 Afghan policemen.
Working alongside the British trainers are experienced members of the Afghan National Police (ANP).
The recruits are taught a variety of policing techniques, as well as military skills, and receive lessons in literacy and numeracy.
The new recruits were all presented with graduation certificates, with special awards going to the top students.
In addition, the trainee police, in Afghan-style, presented neck garlands to two of the 5 SCOTS officers, Major Nick Calder and Lieutenant Dan Thompson, in recognition of their commitment to giving them the best possible training.
General Abdul Hakim Angar, Chief of Police for Helmand, said:
It is important that people trust the police and co-operate with them, and with the new, high quality officers that are being produced at the Helmand Police Training Centre, that is increasingly the case.
These new police officers have volunteered to serve the people and now they have the skills to do that.
Lieutenant Colonel Adam Griffiths, Commanding Officer of 5 SCOTS, said:
Developing the Afghan Police is about improving their professionalism, accountability and standards.
I congratulate these 200 new officers whose work will be crucial in building and developing an Afghanistan free from the grip of the insurgency.
There are currently around 117,000 fully-trained ANP in Afghanistan and the aim is to reach a target of 134,000 by the end of 2011.
Published 21 January 2011