Press release
£20 million support for welfare reform claimants unspent
More than £20 million specifically earmarked to help people adapt to welfare reforms was not spent by local authorities last year.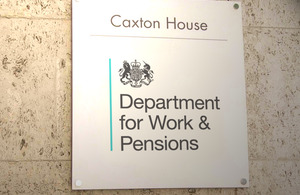 New figures show that almost two-thirds (63%) of councils paid out less than their total Discretionary Housing Payment (DHP) allocation to tenants, leaving £13.3 million left over.
Around three-quarters of councils also did not apply for a £20 million government top-up fund to help claimants adjust to welfare changes, leaving a further £7.1 million unspent.
Minister for Welfare Reform, Lord Freud, said:
We tripled support for vulnerable people to £180 million last year to ensure the right help was in place during our far-reaching welfare reforms and it is good to see that people have benefited from that support as they adapt to the changes.

Today's (24 June 2014) figures also show that recent scare stories about councils running out of money were grossly exaggerated. We urge people who may need additional help to contact their local authority.

Our vital reforms are fixing the broken welfare system by restoring fairness for hardworking people and making sure work always pays, as part of our long-term plan.
The new figures also show:
at the end of the financial year, 240 out of 380 local authorities (LAs) across Great Britain underspent their DHP funding
almost 1 in 10 councils spent less than 60% of their total DHP allocation, and 18 councils spent less than half
in total, almost 400,000 DHP awards were made to claimants in 2013/14 to support the most vulnerable people through a range of housing benefit reforms
over 160,000 of these awards were for extra funding to help claimants with housing costs while they look for work or more suitable accommodation, or to support them moving house
Thousands of people have been awarded DHP funding to help them manage both their short and long-term housing costs.
The Scottish and Welsh Governments provided extra financial support to claimants and an additional 85 councils in England topped up their DHP funding.
We have given councils £165 million this year – on top of £180 million last year – to help the most vulnerable claimants adjust to our necessary reforms.
More information
Read the Use of Discretionary Housing Payments statistics
LAs are able to top up their government contribution towards DHPs to a maximum of two and a half times this figure from their own funds.
In 2013/14 the Scottish Government allocated Scottish LAs a share of a £20 million pot with the stated intention that this was used to award DHPs. The Welsh Government similarly provided just over £1 million to Welsh LAs for the same purpose.
The removal of the spare room subsidy ensures housing benefit pays for the size of property a household needs. It aims to free-up space for over 300,000 families living in overcrowded accommodation, while 820,000 rooms were going spare in under-occupied social housing.
On top of this there are approximately 1.7 million households on the housing waiting list in England. It is right that we tackle this issue and bring fairness back to the system.
Contact Press Office
Media enquiries for this press release – 0203 267 5109
Press Office
Caxton House
Tothill Street
London
SW1H 9NA
London Press Office (national media and London area enquiries only – not questions about personal claims) 020 3267 5144
Out-of-hours (journalists only) 076 59 108 883
England and Wales (local media enquiries) 029 20 586 then 097 or 098 or 099
Scotland (local media enquiries) 0131 310 1122
Follow DWP on:
Published 24 June 2014