News story
£20 million Leeds station entrance opens up access to city's development
20,000 people a day will use new entrance, improving journeys at one of UK's busiest train stations.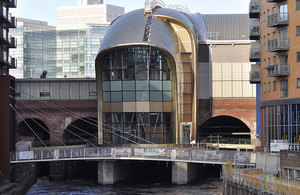 Commuters in Leeds will enjoy quicker, easier journeys in 2016 as Transport Minister Andrew Jones today (4 January 2016) officially opened the new £20 million southern entrance to the city's railway station.
Around 20,000 people a day will use the new entrance that provides a direct link to the city's growing south bank area – opening up access to South Bank Central, Holbeck Urban Village and Leeds Dock and Hinterland development areas. Passengers will no longer have to loop around the station to the existing northern entrance – cutting the time it takes to catch trains.
The entrance design is a striking addition to the cityscape south of the station, while additional customer information screens, ticket machines and automated ticket gates will reduce congestion and improve the experience for all passengers using the station.
Transport Minister Andrew Jones said:
The stunning entrance will make journeys quicker and more convenient for thousands of passengers every day. This is a further example of the Northern Powerhouse in action, improving lives for people and businesses in Leeds.

We're determined to provide Leeds and Yorkshire with a transport network to support its ambitions, with new rail franchises, new rail stations and major road upgrades to drive the region's growth.
Councillor Peter Box, Chairman of the West Yorkshire Combined Authority, said:
A significant proportion of the city region's 1.4 million workforce use Leeds Station with a growing number of them wanting to head south when they arrive.

The distinctive new southern entrance, will save 1 in 5 of them up to 50 minutes on their weekly commute and will help to encourage development in an area which as well as being home to ASDA's UK headquarters is also the location of Eversheds, Ernst & Young and DWF's regional HQs.
Situated over the River Aire on the south side of the station, the £20.4 million entrance includes a brand new concourse, escalators, stairs and lifts to improve accessibility and new cycle storage for easier, connected journeys from door to door.
The government contributed £12.4 million towards the development which was delivered in partnership with West Yorkshire Combined Authority and Network Rail.
The Leeds southern entrance opening follows the recent awarding of the Northern and TransPennine rail franchises that will ensure longer trains, more frequent services and provide space for more than 14,000 more passengers – around 46% more capacity – into Leeds and Sheffield during the morning rush hour. There will be also extra services between Leeds and Hull, Leeds to Harrogate and Leeds to Lancaster via Skipton.
Last November, HS2 Ltd Chairman Sir David Higgins published his recommendation for a 'Yorkshire Hub' in Leeds to connect HS2 to existing rail services in a single station that would support regeneration around the area and help bring the country closer together.
The government is also demonstrating its commitment to the Northern Powerhouse with a £6.4 billion package of wider transport investment in the Yorkshire and Northern Lincolnshire region including electrification of existing rail lines, the creation of Transport for the North, and a major upgrade to key roads like the M62.
Rail media enquiries
Media enquiries 020 7944 3021
Out of hours media enquiries 020 7944 4292
Switchboard 0300 330 3000
Published 4 January 2016