2 SCOTS offer assistance to rain-battered Afghans
A fortnight of heavy rain across parts of Helmand province has seen British troops offer assistance to locals worst hit by the weather.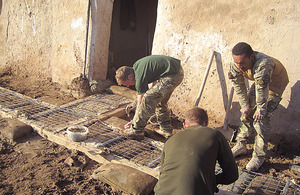 A platoon of troops from The Royal Highland Fusiliers, 2nd Battalion The Royal Regiment of Scotland (2 SCOTS), based in the recently-established Checkpoint Khadinooraghi, in the Loy Check area, near Babaji, have been offering direct assistance to the locals by carrying out and facilitating repairs to homes and community amenities.
Working alongside the Afghan National Police and in conjunction with official agencies, they are also helping to convince people that the Afghan Government exists to help them and represents the way forward in their country.
In one particular case, troops encountered an elderly woman who had been forced to leave her home due to the rains.
The weight of the water had led to the roof and walls of her compound collapsing. On discovering this - and the fact that her husband and son had previously been killed by insurgents, leaving her the sole carer for her two grandchildren - the soldiers offered immediate assistance.
While neighbours agreed to accommodate the woman and her grandchildren temporarily, the soldiers collected items including blankets and cushions for her and made available a sum of money to enable her to pay local workmen to rebuild her home.
Lieutenant Erik Smith of 2 SCOTS said:
This act of compassion on the part of the troops attracted a lot of attention from the village elders and mullahs. One elder who spoke with the patrol commander offered his gratitude on behalf of the village and promised to say a prayer for ISAF at the evening prayers.
The purpose of the Army presence in the Loy Check area is to prevent insurgent activity creeping back in to what was once a stronghold for them.
Their mission is to disrupt insurgent movement from the north and provide the community with the security it deserves, having now rejected the insurgency.
Lieutenant Smith added:
The platoon have been impressed by how the locals have responded to their recent patrols. Every day the troops encounter locals who are willing to offer help to ISAF by providing information on insurgent activity and identifying potential development projects in the area.
The platoon have made a real impact since their move into Loy Check - progress we are confident will continue when the Afghan National Police eventually move into the checkpoint and assume sole responsibility for security in this area.
Published 1 March 2011