News story
2 PARA plough on through snowy exercise
Even an intense British winter cannot dissuade paratroopers from preparing for their role as the British Army's rapid reaction force.
In the depths of a Northumbrian winter, soldiers from 2nd Battalion The Parachute Regiment (2 PARA) are braving the snow to take part in Exercise Eagle's Nest at Otterburn Ranges.
The two-week-long training, which began last week, is designed so that troops can practise live firing, manoeuvring across hostile countryside, working with fire support from artillery and helicopters, and living in the field for prolonged periods.
From May the 2 PARA Battle Group takes on the role as the lead unit in the Airborne Task Force (ABTF), with the unit's airborne infantry bolstered by artillery, engineers, medics and logisticians from 16 Air Assault Brigade.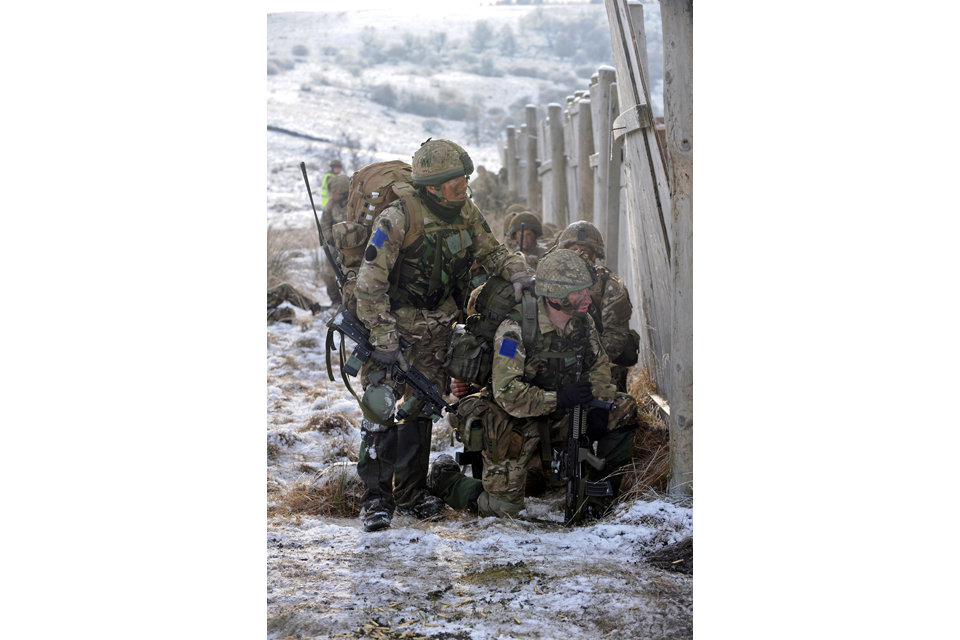 The ABTF is ready to deploy anywhere in the world at short notice to conduct the full range of military operations, from non-combatant evacuation operations to war-fighting.
After deploying from their base in Colchester, the training began in earnest last Wednesday with a daylight attack by the full 600-strong battle group, supported by fire from Scimitar armoured reconnaissance vehicles and 105mm light guns and 81mm mortars.
The firepower brought to bear during the attack matches the heavy weaponry that the 2 PARA Battle Group would have in support during the early phases of an ABTF operation.
During the exercise, troops will also carry out a night attack and helicopter raids. The soldiers are living in the field throughout, carrying all the equipment and supplies they need to live and operate in Otterburn's harsh climate and rough landscape.
The training finishes with a 50-mile tab - a fast march carrying equipment - from the ranges to RAF Spadeadam.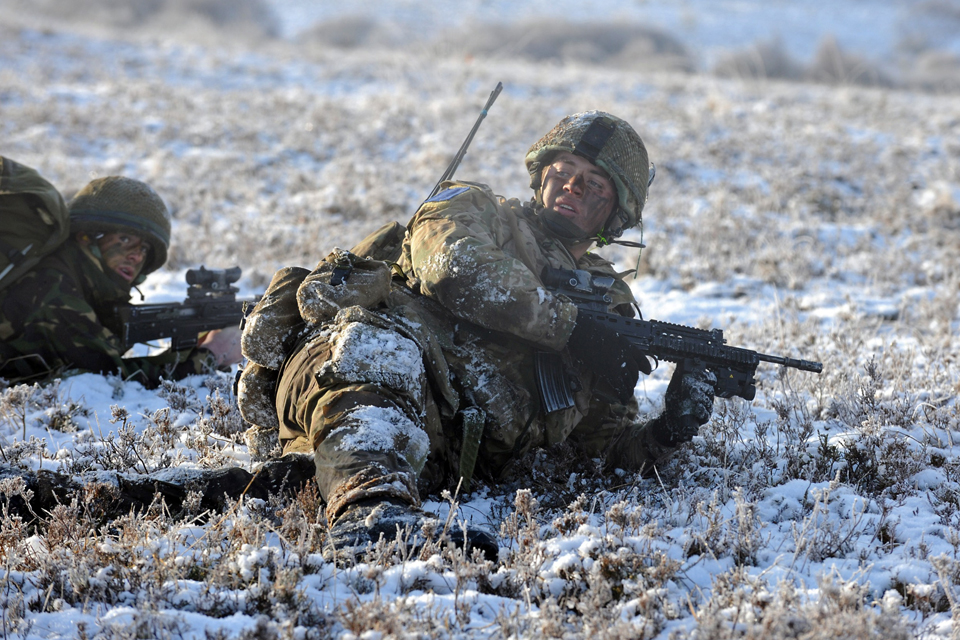 The Commanding Officer of 2 PARA, Lieutenant Colonel Adam Dawson MC, said:
From my perspective, Exercise Eagle's Nest is where the battle group comes together and begins to demonstrate the significantly enhanced capability delivered by combined arms operating in concert.
The relatively harsh environment of Otterburn in winter, combined with living out of the field in an expeditionary style, offers a great opportunity to re-zero our basic fieldcraft.
Working with helicopters throughout the exercise is a key skill to develop as we build towards a credible and capable force held at very high readiness.
This is the start of a demanding three-month training period which will prepare the battle group for the full spectrum of tasks that we may face as we take on the ABTF role.
16 Air Assault Brigade is the British Army's largest brigade with 7,400 soldiers, combining the speed and agility of airborne and air assault troops with the potency of Apache attack helicopters.
The brigade deployed to Afghanistan between October 2010 and April 2011 and since its return to the UK has focused on a number of commitments, most significantly its core role as the ABTF, ready to deploy on operations anywhere in the world at short notice.
Published 21 January 2013