2 PARA in Ukraine for Exercise Rapid Trident
Personnel from 2nd Battalion The Parachute Regiment (2 PARA) joined military parachutists from around the globe to exercise in Ukraine.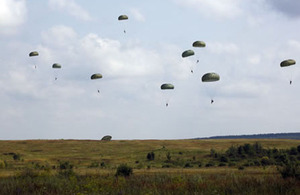 The airborne exercise took place at the Yavoriv Training Area during Exercise Rapid Trident.
The US-led programme brought together 1,600 troops from Ukraine, Poland, Canada, Belarus, Moldova, Slovenia, Estonia, Lithuania and the UK in a bid to allow tactics and techniques to be shared.
The beginning of the airborne exercise saw more than 300 parachutists from the various nations jump from 1,800 to 2,200 feet (549 to 671 metres) over the vast surroundings.
Flying on an American C-130 aircraft, 75 soldiers from 2 PARA launched themselves onto the drop zone in a covert manner.
They deployed alongside Ukrainian, American and Polish colleagues, resulting in a flock of chutes dominating the mock battlefield:
I managed to land in a thorn bush, which wasn't great, but other than that it was a mega jump," said Private Rich Adam, 2 PARA, after touching down.
Although we only got back from Afghanistan six weeks ago, we put our names down for this exercise immediately because we wanted to get some more jumps done.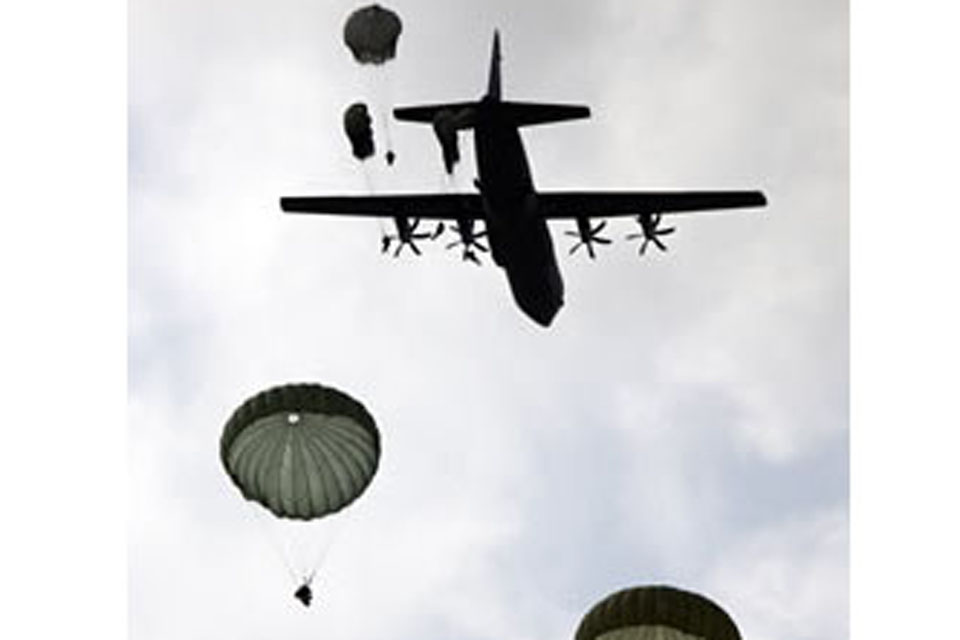 Drop zone safety officer Staff Sergeant Scott Frazier, US Army, outlined his experience of working with British 'sky soldiers':
We love exercising with the Parachute Regiment because they are well-respected across the world," said the member of 2nd Battalion, 502nd Infantry Regiment.
We have learnt a lot from 2 PARA in the past and hold them in very high esteem.
While Exercise Rapid Trident served to improve the way countries involved in NATO's Partnership for Peace programme work together, soldiers on the ground were also able to enhance their personal skills by learning from their overseas counterparts.
Private Ashley Jones, 2 PARA, said:
Usually we drop from between 600 and 1,000 feet [183 to 305 metres], but here we're jumping from a lot higher which means we're in the air for much longer.
It gives you more time to sort yourself out and think about what the next move is.
Private Alan Nethery, 2 PARA, added:
This is not Afghan-based at all, it's more about working in an international environment with different languages.
It's a bit of a break from hot deserts and pre-deployment training and is a great chance to work with foreign countries on something we love.
As well as honing their operational skydiving skills, the British soldiers conducted cordon search drills using expert techniques deployed and honed in Helmand province.
Members of the Polish Army watched the dynamic serial while UK servicemen gave guidance through an interpreter.
Working with foreign equipment such as Ukraine-owned tanks, the soldiers also listened to tutorials from partner countries and shared their own knowledge in return.
Captain Arek Kwiek, a Polish company commander, said:
The meeting has been a really good opportunity to exchange our experiences with each other from both Iraq and Afghanistan.
At squad level, the British go very deep into the details, which is impressive.
It is very difficult to learn everything on one exercise so it would be good if we could spend more time training together like this.
The first and last UK airborne assault to take place since the Second World War was at El Gamil airfield in Egypt during the Suez Crisis of 1956.
So, perhaps inevitably, this has led some quarters to question the future and value of this capability, particularly bearing the Strategic Defence and Security Review (SDSR) in mind.
However, soldiers in the unit are fiercely keen to defend their function within the wider Armed Forces. Private Adam explained:
There is always going to be a threat and you will always need troops who can get in behind enemy lines should that be required. That is what paratroopers are there to do.
Keeping our jump capability is so important to what the British Army can offer.
A MOD spokesman explained the Government's stance on the issue, which acknowledges a likely cut to the number of parachutists within 16 Air Assault Brigade:
The SDSR looked at reorganising the Army structure over the next ten years to enable it to best meet the challenges of 2020 and beyond.
It is likely that the majority of Parachute Regiment soldiers will remain fully trained to parachute, but this requirement for 16 Air Assault Brigade as a whole will be reduced.
Speculation that 'para pay' - a monthly supplement of £180 for the 5,000 personnel who are trained to parachute - might also be reduced has been rife across the Service.
But the MOD spokesman offered reassurance that soldiers who remain fully trained in this area would continue to receive the extra money in their salaries.
British paratroopers might not be floating over the skies of Afghanistan today but, as attested to by their international colleagues, they are a leading asset, on standby to drop into action whenever the military landscape may require it.
Published 13 September 2011