News story
2 million switches in 2 years
Economic Secretary celebrates 2 years of success for the Current Account Switch Service.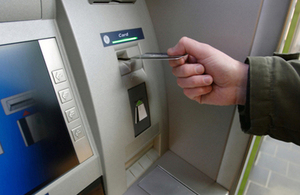 Economic Secretary to the Treasury, Harriett Baldwin, will today (16 September 2015) meet with customers who have successfully switched using the Current Account Switch Service, which is run by Bacs, to celebrate the 2 year anniversary since its launch.
New data published today shows that since its launch in September 2013, customers have switched bank accounts more than 2.1 million times using the service.
The service is a voluntary scheme set up to make switching current accounts quick, easy and reliable for customers. It is free to use and is available to consumers, SMEs, small charities and small trusts.
Currently, 40 banks and building societies participate in the service, accounting for over 99% of the current account market.
Economic Secretary to the Treasury, Harriett Baldwin said:
Increasing competition in banking so that customers get a better deal is at the heart of the government's long term plan.

That's why we challenged industry to make it easier for customers to switch accounts, and welcomed the launch of 7-day Current Account Switch Service in September 2013.

I'm delighted to meet today with customers of the service to hear first-hand how it is helping people to switch accounts and get a better deal.

I also welcome the new public awareness campaign that will be launched later this week. This will help make sure that the service can continue to help customers hold their banks to account by allowing them to vote with their feet.
The meeting comes shortly before the launch of a Bacs campaign to raise public awareness of the service. The campaign addresses a recommendation from the Financial Conduct Authority's review into the service and aims to improve awareness of the scheme and to help bring its benefits to a wider audience.
Alongside the Current Account Switch Service, the government has also driven forward a wide range of reforms to simplify banking for customers and improve competition. New tools to determine the best value current accounts, easy to use mobile payment systems, simpler mortgage rules and more banks to choose from are just some examples of where the government is empowering consumers.
Published 16 September 2015