8 ways banking has been made easier
Working with the banking industry we're improving how you bank. Here's how: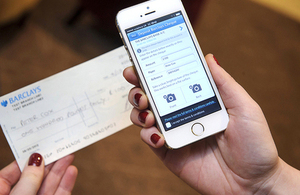 1. You can now switch your current account in 7 days
We set up the Current Account Switch Service in September 2013.
It's a quick and easy way to switch your current account in 7 days – your direct debits and standing orders are transferred automatically, and there's a switch guarantee, so you're protected against financial loss if anything goes wrong when you switch. Over 3.2 million switches have taken place since 2013. And it's also available to 99% of small businesses.
2. It's now really easy for you to pay someone using your mobile phone
Services like Paym and Pingit let you pay somebody just through using your mobile phone number – so paying your share of the taxi ride home when your friend is the only one with cash is a lot less hassle.
The Payment Systems Regulator (which we set-up last year) is working with payment systems to improve how you pay for things.
3. Capping bank fees for processing card transactions
In December 2015 we introduced a cap on the charges paid by a business to your bank when you pay for something using a debit or credit card.
Industry has estimated that this could save UK consumers and businesses up to £700 million a year.
4. You'll soon be able to deposit a cheque using your smart phone
A change in legislation passed in the Small Business, Enterprise and Employment Bill on 26 March 2015 means that from 2018, banks will process all cheques as images. This not only means quicker clearing times, but greater convenience and choice in how you deposit cheques.
You'll still be able to deposit cheques at branches, cash machines, Post Offices or by post, but banks will also be able to offer the option of paying in cheques via smartphone, tablets or other technology.
5. Taking out a mortgage is becoming simpler
We asked Which? and the Council of Mortgage Lenders to look at how the fees you're charged when you take out a mortgage can be made clearer – like better explanations of whether fees are compulsory or avoidable and when they will be charged.
Their report contained commitments from industry to deliver a standardised fee tariff and to use the same terms so consumers can understand them.
6. You've now got more banks to choose from
We lowered the regulatory barriers preventing banks from entering the sector. 8 completely new UK banks have been authorised since May 2015, and several more are in the pipeline.
This includes digital-only banks like Atom, Monzo and Tandem which are all competing hard for new customers.
7. If you're a small business we're making it easier for you to access finance
If you apply for a small business loan and it's rejected, we're changing the law so the lender you applied to has to offer to share your details with finance platforms so that you can be linked-up with alternative lending opportunities. You can also appeal a rejected application direct to your bank through the Appeals Process.
The Business Banking Insight provides a ranking of the best banking institutions, products and services, as rated by the UK's small businesses themselves. This makes it easier to choose the right bank and products for your business.
8. It is easier to get a fee-free basic bank account
If you don't have or can't get a standard current account you can apply for a fee-free basic bank account from any of the UK's 9 largest banks. There isn't an overdraft or fees for failed payments so you can manage your money without fear of running up an overdraft or being locked out of your account by unexpected charges.
These accounts have features including:
access to ATMs and online payments
direct debit and standing orders
over the counter services in bank branches and the Post Office
Published 16 September 2015
Last updated 16 September 2016
+ show all updates
Updating entries to include fee caps and fee-free banking. Further updates to dates and statistics.

First published.