£2 million for smoother M6 journeys in Cumbria
Smoother journeys for drivers along sections of the M6 in Cumbria.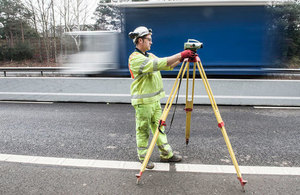 Highways England is delivering almost £2 million worth of work over the next few weeks to give drivers smoother journeys along sections of the M6 in Cumbria.
In all, 5 resurfacing projects are taking place at different locations between junction 36 of the motorway at Kirkby Lonsdale and junction 39 at Shap.
Highways England project manager Peter Gee said:
These are routine repairs – typically to tackle potholes and other surface defects caused by wear and tear – to ensure users of the M6 through this part of Cumbria can continue to enjoy safe, smooth and reliable journeys.

There will be no full carriageway closures and we are doing all we can to keep traffic moving by keeping as many lanes open as possible and doing most of the work at night when traffic volumes are low.
Details of the projects include a £700,000 project which started this week around junction 39 at Shap to resurface all lanes of the northbound carriageway. From Monday 24 October, the northbound slip road will be subject to overnight closures with diversions in place from junction 38 or junction 40 as appropriate. Wide vehicles or vehicles with wide loads over 3.25 metres may also be subject to diversions.
There will be £400,000 of resurfacing repairs across all 3 lanes of the southbound carriageway through Lune Gorge between junction 38 at Tebay and junction 37 for Kendal which also started this week.
There is an £80,000 project starting on Monday (17 October) to resurface lanes 1 and 2 of the southbound carriageway near Killington Services between junction 37 at Kendal and junction 36 at Kirkby Lonsdale. Drivers are advised this does involve closures of the services overnight – between 8pm and 6am – on Tuesday night (18 October) and possibly on Wednesday night (19 October), with alternative services at Tebay andLancaster.
There will be £676,000 of repairs and improvements along the northbound carriageway between Hoghouse Bridge and junction 37 at Kendal starting on Monday 24 October and due to be completed by Sunday 20 November. This involves resurfacing all 3 lanes, some new road signs and improved protection for Hoghouse bridge from vehicle strikes. Some overnight slip road closures will also be needed as part of this work.
There will be a £100,000 scheme starting on Monday 24 October to resurface sections of all 3 lanes along the southbound carriageway between junction 39 at Shap and junction 38 at Tebay.
With the exception of the project involving Hoghouse Bridge, all of the schemes will be completed by the end of the month. None of the projects require full carriageway closures – with 2 lanes open to drivers during the day and at least 1 lane, sometimes using the hard shoulder, open to drivers at night. There will also be a 50mph speed limit in place past the roadworks.
General enquiries
Members of the public should contact the Highways England customer contact centre on 0300 123 5000.
Media enquiries
Journalists should contact the Highways England press office on 0844 693 1448 and use the menu to speak to the most appropriate press officer.
Published 18 October 2016