News story
£1m boost to keep Great Western Air Ambulance flying announced
Chancellor visits the Great Western Air Ambulance in Bristol, following a pledge of £1 million towards running the service's helicopter.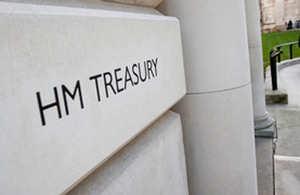 The funding will allow the Great Western Air Ambulance charity to run its EC135 helicopter for a year. The helicopter is based in Filton, just north of Bristol, and is part of the regional 999 emergency response service.
The helicopter provides a critical care service for emergencies across Bristol, Bath and North Somerset, Gloucestershire and parts of Wiltshire. The charity is the youngest air ambulance charity in England and Wales, so this will secure its future as it has just upgraded to the EC135 helicopter.
During the Chancellor's visit to Filton, he met members of the critical care team including two of the original crew members, critical care paramedic, Pete Sadler and clinical support officer, John Wood. He also saw the helicopter that the funds will support.
The Chancellor made the £1 million funding pledge at last week's Autumn Statement, when he also unveiled a £5 million infrastructure and equipment fund for air ambulances across England and Wales, to support the delivery of other services including landing facilities and lifesaving equipment such as defibrillators.
The Chancellor further announced VAT refunds to search and rescue and air ambulance charities, worth an estimated £25 million over five years.
The £1m funding for the Great Western Air Ambulance comes from fines levied on banks for misconduct.
The Chancellor pledged that all the proceeds from these fines would be spent during this parliament on military and blue light good causes.
So far, funding has been awarded to a range of projects from the Invictus Games to mental health support for ambulance, police and fire services.
George Osborne, Chancellor of the Exchequer, said:
Local MPs like Jack Lopresti and Charlotte Leslie have been campaigning hard for further support for the Great Western Air Ambulance, which saves lives across the south-west. They brought this issue to me and today I am delighted to be able to announce £1m of additional funding to keep the helicopter flying.

This funding comes from fines levied on banks, and it's only right that funds from those who demonstrated the worst values should go to those, like the brave air ambulance crews, who demonstrate the best of British values on a daily basis.

That's why I've also earmarked £7.5 million overall to support air ambulances across the country.
The charity's Chief Executive John Christensen said:
We were delighted at the Chancellor's pledge of £1 million of funding and that he was able to see first-hand how important this funding is.

For the first time since I started the chariry our future is looking financially secure. This is all down to the effort of Jack Lopresti, MP for Filton and Bradley Stoke, plus other local MPs in the area and of course the fantastic team behind the charity.
Published 12 December 2014