19th Regiment Royal Artillery returns from Afghanistan
Soldiers from 19th Regiment Royal Artillery returned to the UK yesterday following their deployment as part of 12th Mechanized Brigade to Helmand province, Afghanistan.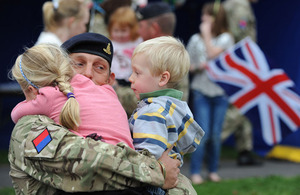 The regiment has been employed across Helmand, supporting five battle groups, in its 'Joint Fires' role, operating both on foot and from protected mobility vehicles such as the Jackal. The unit's main piece of equipment is the L118 Light Gun.
During its tour the regiment played a significant role in the mentoring and monitoring of the Afghan National Police and the Afghan National Army. Its efforts have assisted the country to make significant progress in achieving security for its people.
A total of 91 members of the regiment were welcomed home to Bhurtpore Barracks in Tidworth, Wiltshire, by their families, friends and colleagues. They marched onto the parade square led by a lone piper and to loud cheers.
Warrant Officer Class 2 Chris Hay from Forfar was greeted by his wife, Ami, and three-year-old son, Aidan:
To come home to a welcome like this is amazing," he said. "It makes it all worthwhile with this kind of support that they give us.
It has been a long hard six months but the support you get from the guys around you at work makes it a successful tour.
The regiment's efforts have been outstanding and we trained long and hard for it, so we knew each other like second nature.
Everyone performed to high standards and achieved the job and now we are all glad to be home.
Also marching onto the parade square was Lieutenant Jessica Hinton, who said:
It is brilliant to be back, cold, but awesome to see family and friends, loved ones and little ones," she said.
Throughout the tour families have sent out parcels and it is great to have a proud family waiting for you when you get home.
I am very proud to have served in Afghanistan; the comradeship between the attached arms has been excellent and there has been a real support network and friendships made that will last a lifetime.
19th Regiment Royal Artillery will now be taking a well-earned period of leave before gathering again at its barracks in Wiltshire for an operational medal parade on 10 November 2012.
Published 11 October 2012