19th Regiment Royal Artillery receive Afghanistan medals
Soldiers from 19th Regiment Royal Artillery received their Afghanistan Operational Service Medals on Saturday 10 November after their deployment as part of 12th Mechanized Brigade in Helmand province.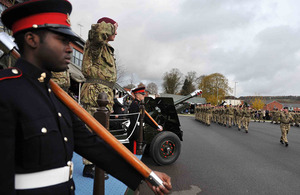 Members of the regiment received their medals in front of a large gathering of their families, friends and colleagues at Bhurtpore Barracks on Tidworth Camp in Wiltshire. They were marched onto the parade square by the regimental Pipes and Drums.
Bombardier Ross Mitchell was watched by his wife Stacey, daughter Mia, six, and sons Jack, two, and Kieran, seven months:
It is a proud moment with the families being here to watch us and good for the bairns to see you getting a medal," said Bombardier Mitchell, who has completed his second tour of Afghanistan. He was also presented with his Diamond Jubilee Medal.

It has been a long six-and-a-half months and a difficult tour, but it is good to see the change from the first time I was in Afghanistan; what it was then and what we are handing over now is good to see.
Another of those to receive his Diamond Jubilee Medal was Gunner Bruce Robertson, who has also completed his second tour of Afghanistan:
It was a fantastic tour, very busy, and I loved it," he said. "I got home just in time to see my wife Adele giving birth to our first child Kaiden and that topped everything off.

She, Kaiden and my mum and brothers were not here today but they will see me parade through Inverness on 15 November. That means the world and we have done plenty of drilling for it.
The regiment was employed between March and October this year across Helmand province, supporting five battle groups in its Joint Fires role, operating both on foot and from protected mobility vehicles such as Jackals. The unit's main piece of equipment was the L118 Light Gun.
During its tour the regiment played a significant role in the mentoring and monitoring of the Afghan National Police and the Afghan National Army. Its efforts assisted the country in making significant progress towards achieving security for its people.
Major General John Lorimer, General Officer Commanding 3rd (United Kingdom) Division, was one of the three guests of honour to hand out the medals.
Major General Lorimer said in his speech to those gathered:
It is particularly terrific to see so many friends and families here today. There is no doubt about it, your support has been invaluable to the officers and soldiers who stand here on parade in front of you today.

362 members of 19 Regiment deployed providing precision and suppressant fire, and mentoring the Afghan National Army to assist in the development of their artillery battery in Helmand.
You had a direct and dramatic effect on the insurgency as well as protecting the ground-holding and manoeuvre troops. Your partnership with the Afghan Artillery Battery prompted radical improvements in their capability.

HERRICK 16 for 19 Regiment was a very successful tour building on the work of predecessors' efforts and supporting great changes occurring in Afghanistan.

Be it markets, towns, roads or services, communities are moving back and there is a thriving population again. Afghans are in a better place to take over security themselves as the process of transition moves on.
19th Regiment Royal Artillery is now preparing for its second high profile parade in Inverness on 15 November after parading in Dundee today, both of which are recruiting grounds for the regiment.
Published 13 November 2012