News story
19th Regiment Royal Artillery becomes The Scottish Gunners
19th Regiment Royal Artillery (The Highland Gunners) has marked its change of name to The Scottish Gunners with a parade.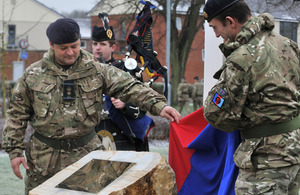 19th Regiment Royal Artillery (19 Regt RA) has become The Scottish Gunners as a result of 40th Regiment Royal Artillery (The Lowland Gunners) being put into suspended animation as part of the Army 2020 restructuring process. In addition, 38 (Seringapatam) Battery has been subordinated to 19 Regt RA.
As the only Scottish Artillery Regiment remaining, 19 Regt RA becomes The Scottish Gunners in order to continue the proud heritage of both the Highland and Lowland Gunners and retain its links with Scotland.
The parade, which took place at Bhurtpore Barracks, Tidworth Camp, Wiltshire, on Wednesday 12 December, was attended by the Honorary Regimental Colonel Brigadier Will Bramble.
Lieutenant Colonel Andrew Dawes, Commanding Officer of 19 Regt RA, said:
I think today is significant and I think everyone has really enjoyed what we marked today. It is important for the regiment and their understanding of where it fits into our precious fabric and I think it is important for what we represent to Scotland as well and not just the Highlands.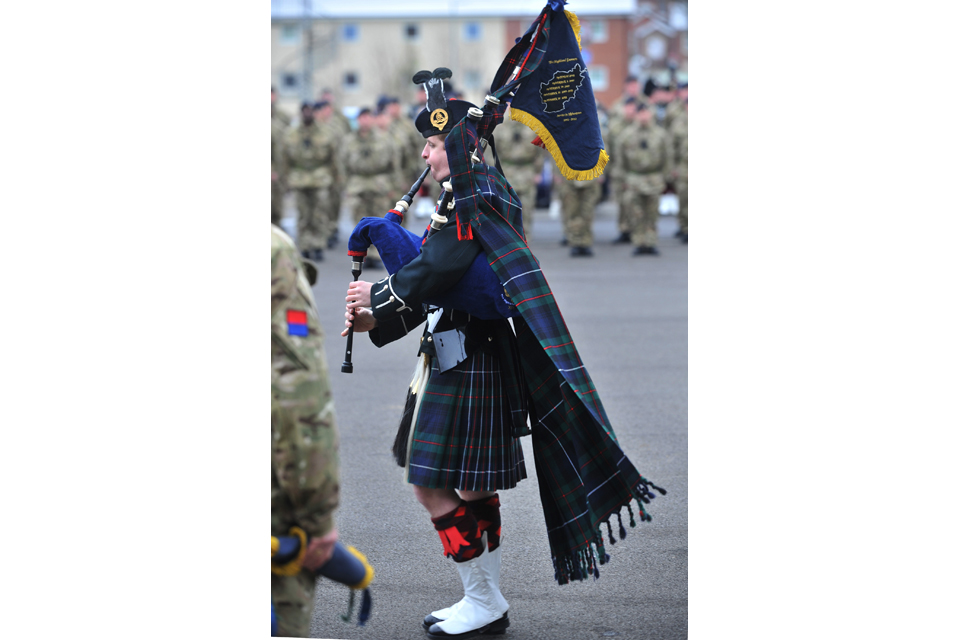 We put a lot of effort into staying connected with the areas which are most important to us and they are a long way away from Wiltshire. The soldiers get up to Scotland on a fairly regular basis and we make room in our programme to enable that.
But in terms of identity and being remembered and staying in the conscience of the civic dignitaries and the cities that are important to us, you have got to put the effort in to get something out and we have really tried to do that this year despite being away on operations.
I think the homecoming parades in Dundee and Inverness were very fitting and a great tribute to everything the lads and lassies have put into Afghanistan on behalf of the nation.
One of the soldiers taking a central role in proceedings was Gunner Richard Caffrey, who was the event's piper and was presented with a new pipe banner for his pipes. He said:
It was a brilliant experience being out in front and recognised by the field regiment.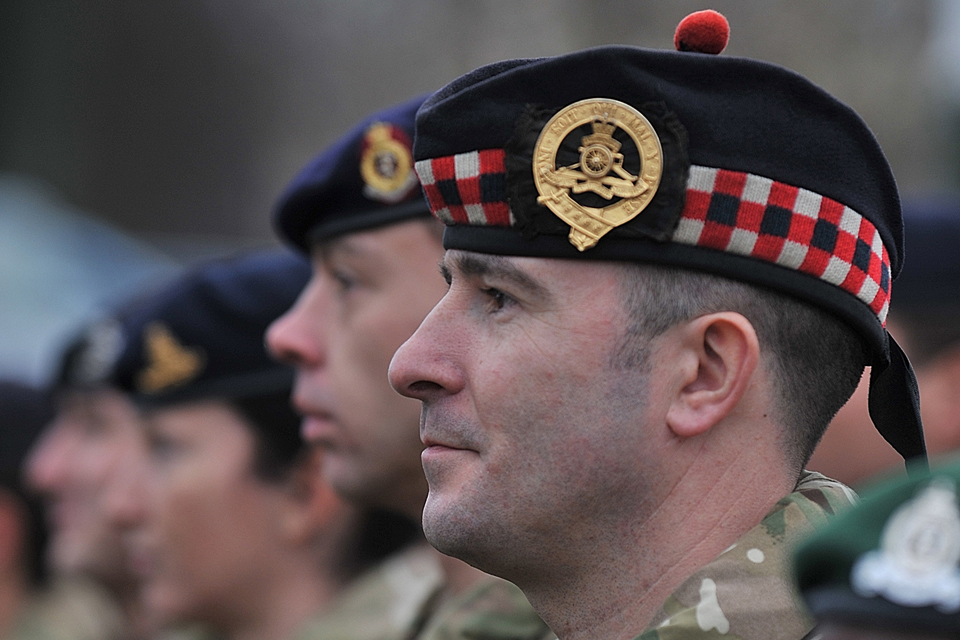 I have been playing for 11 years now and as a civilian I competed, and when I joined the Army I wanted to know what it would be like playing in a field pipe band.
Afterwards a stone with a plaque made from brass cartridges fired on Operation HERRICK 16 was unveiled at the base of the flag poles on the parade square at 19 Regt RA's headquarters.
Lieutenant Colonel Dawes explained:
We have captured on the brass plate all of the tours and all the various sub-units involved and I myself have done several of those tours.
It is a great opportunity to get Brigadier Bramble to unveil this for us, because he of course was the commanding officer on one of those previous tours as well.
19 Regt RA returned to its base in Wiltshire in October after a demanding but successful deployment as part of 12th Mechanized Brigade in Helmand province.
The regiment was employed between March and October this year across Helmand province, supporting 5 battlegroups in its Joint Fires role and operating both on foot and from protected mobility vehicles such as the Jackal.
The unit's main piece of equipment was the L118 Light Gun. During its tour the regiment played a significant role in the mentoring and monitoring of the Afghan National Police and Army and made significant progress in helping to achieve security for the Afghan people.
Lieutenant Colonel Dawes commented:
I think this has been a really important year and really important chapter in our history. I am really proud of everything they have done on tour. We knew it would be a tough tour and we trained very carefully, very intelligently and very hard.
It came with an impact on our families and our own support networks but they have come through, they have supported everything we have done, and I am proud to say we all came back and are now getting back into family life and need a well-earned period of leave.
Published 14 December 2012