Press release
£19.5 million to kick start regeneration in Portsmouth
Opening up access to the Tipner site for businesses and visitors.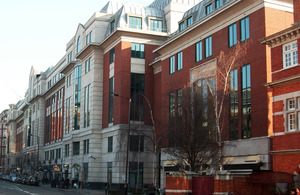 Work to kick-start the regeneration of the 22 hectare Tipner site in Portsmouth can now start after receiving final approval from Local Transport Minister Norman Baker today (12 December 2012).
The scheme will see Portsmouth City Council deliver extensive improvements including a new access road to the site from the M275 and a new Park & Ride scheme. As well as improving access to the regeneration site at Tipner, the scheme will relieve traffic and congestion on local residential roads around the site.
Norman Baker said:
This important scheme will encourage regeneration of the Tipner site by opening up access to the area for businesses and visitors.

The new junction on the M275 and the new park and ride scheme will be a huge boost for the area - helping to deliver new homes and new jobs as well as reducing congestion and encouraging visitors to the city. Having visited Portsmouth to see for myself, I am in no doubt that this is a good scheme and a sensible use of taxpayers money.

The £19.5 million we are putting into this scheme shows that the coalition government is serious about investing in the infrastructure the country needs to drive economic growth.
The scheme will deliver:
a new motorway junction on the M275 at Tipner providing access to the development site and greatly reduce the impact of construction traffic on local roads - at present the only access to the site is via existing narrow Victorian streets
a new additional bus priority lane on the M275 heading south from the new interchange - this is intended to improve public transport between Tipner and central Portsmouth and improve bus reliability, this will be an additional lane and would not remove any capacity for general traffic
a park and ride site accessed via the new motorway junction, with bus every 10 minutes to the city centre/Gunwharf Quays
The Tipner scheme was one of the schemes given funding approval last year as part of the spending review process. Work can now start on the construction with the project scheduled to complete in April 2014.
Notes to editors
Today's (12 December 2012) announcement grants full (final) approval to the Tipner scheme enabling work to begin.The department will provide a maximum of £19.5 million towards the full scheme cost of £28.19 million.
News desk enquiries
Media enquiries 020 7944 3021
Out of hours media enquiries 020 7944 4292
Switchboard 0300 330 3000
Published 12 December 2012