19,000 new higher apprenticeships to deliver skills for growth
£18.7m from the Higher Apprenticeship Fund will support the development of 19,000 new Higher Apprenticeships in sectors including construction…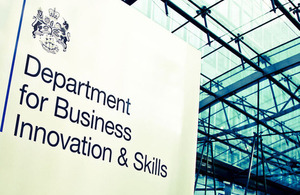 £18.7m from the Higher Apprenticeship Fund will support the development of 19,000 new Higher Apprenticeships in sectors including construction, advanced engineering, insurance and financial services. Around 250 employers, including Leyland Trucks, Unilever, TNT, and Burberry will benefit from world class, nationally accredited technical training delivered in the workplace.
Business Secretary Vince Cable said:
"Investing in skills is central to our drive to boost business and productivity and make the UK more competitive.
"By radically expanding the number of degree level apprenticeships for young people, we will put practical learning on a level footing with academic study. This is an essential step that will help rebalance our economy and build a society in which opportunity and reward are fairly and productively distributed."
Skills Minister John Hayes said:
"By reviving apprenticeships the Government has started to build a world class skills system to rival our country's great reputation for academic excellence. We've driven up quality across the board, more than doubled the number of new advanced apprenticeships, created new routes into higher levels of practical learning and given employers more control of how the training budget is spent. We're now targeting resources even more closely on the skills, firms and sectors that will lead economic recovery."
The winning bids were unveiled as Dr Cable visited the distribution company TNT in Bodmin, Cornwall. TNT is part of a successful bid to the fund and will help deliver Higher Apprenticeships in Express Logistics.
The funding announced today is part of a £25m fund for Higher Apprenticeships announced in July. A second round of bids to the fund will be invited early in the New Year, focusing closely on further areas needed to support economic growth.
Nineteen partnerships comprising employers and training providers will receive a total of £17m, following a competitive bidding process. A further £1.7m has been invested in two new 'Trailblazer' projects in information technology and science, engineering and manufacturing, delivering 6,000 Higher Apprenticeships.
Recent reforms to the apprenticeships programme include initiatives to cut bureaucracy, provide financial incentives for small firms to hire apprentices, and reduce the time it takes an employer to employ an apprentice. Provisional data indicates record growth in apprenticeships numbers, with some 440,000 people starting an apprenticeship in 2010/11.
Notes to Editors:
The following projects will be supported by the Higher Apprenticeship Fund (HAF investment in bold) following a competitive bidding process to identify the most innovative proposals to meet employer's skills requirements:
The development by City of Bristol College of a range of Higher Apprenticeships from Levels 4 (first year of degree equivalent) to 6 (full honours degree equivalent) will meet the skills demands of local businesses in aerospace, engineering, construction, healthcare, graphic design and business skills. 600 apprenticeships will be delivered in partnership with firms including Airbus and Bristol Media. £1,113,000
A Higher Level Apprenticeship Science framework at Levels 4 and 5 developed by Cogent, the UK's industry skills body for chemicals, pharmaceuticals, nuclear, oil and gas, petroleum and polymer businesses will deliver 430 apprenticeships and help employers including Fujifilm, Sellafield and Unilever meet the need for advanced skills. £856,000
New Higher Apprenticeships at Levels 4, 5 and 6 in facilities development will be created by Asset Skills, the Sector Skills Council for facilities management. 560 apprenticeships will help address skills needs in firms including Rentokill Initial, Carillion and G4S. £1,105,400
The creation of a new Higher Apprenticeship framework in employment related services by Babington Business College will deliver 750 apprenticeship opportunities, benefitting employers including Pertemps, Remploy and The Shaw Trust. £961,600
A new Level 5 apprenticeship framework in human resource management created by the Council for Administration will create 725 Higher Apprenticeship opportunities and benefit employers such as BT, IBM and Legal and General. £790,800
A new Higher Apprenticeship Framework in project management at minimum Level 4 designed by the Council for Administration will create 725 apprenticeships and serve firms including BAE Systems, Tata Steel and Cambridge University Press. £798, 400
A new national Level 4 Higher Apprenticeship in emergency care to be developed by Chesterfield College will create 750 training opportunities serving NHS Ambulance Trusts and Savoy Ventures. £1,086,000
The University of Derby will develop a Higher Apprenticeship model that can be tailored to meet any job role in any business and in any sector. It will also launch a specialist Higher Apprenticeship Framework at Levels 4 and 5, to develop the skills of work based trainers and educators. Organisations that will benefit from 450 apprenticeship opportunities include Unionlearn and Systems Training. £900,000
The Financial Skills Partnership will develop two new Level 4 Higher Apprenticeships delivering 270 opportunities in insurance and banking and stockbroking. This will help create a 'technician class' in the sector and open up vocational training routes on a par with Higher Education, benefitting firms including HSBC, Nationwide and Axa Insurance. £346,700
Hull College will develop a new Higher Apprenticeship which will support the expanding Express (parcel) Logistics sector. 250 apprenticeships will be created in firms including TNT UK and DHL. £501,200
Leeds College of Building will develop a new Higher Level apprenticeship at Level 5 in the sustainable built environment, to help maximise the use of green methods of construction, recruit more women and ethnic minorities and address concerns about an ageing workforce. 500 apprenticeships will benefit firms including Persimmon Homes and Wilmot Dixon. £1,000,000
Middlesex University will develop a new Higher Apprenticeship framework in Construction Operations Management and in specialist roles such as heritage and civil engineering. Construction firms that stand to benefit from the expected 1,200 Higher Apprenticeships include Balfour Beatty, Costain, Kier Group and Midas. £1,489,000
Northwest Automotive Alliance will create a Higher Apprenticeship focusing on vehicle manufacture, to meet the needs of the automotive sector in the North West, including Bentley Motors, Leyland Trucks and GM Vauxhall. 501 higher apprenticeships will be delivered. £340,000
Newcastle College Group will develop a High Level Apprenticeship in energy engineering, creating new opportunities to progress into foundation, honours and masters degrees. There will be 120 new apprenticeship opportunities in firms including Bell Valves and Shepherd Offshore. £241,000
North West Kent College will deliver a Higher Apprenticeship framework in sustainable building, supporting the construction, engineering and facilities management sectors. Employers that will benefit from 500 Higher Apprenticeships include Bovis, I-Build Eco and Lend Lease. £1,000,000
Pearson in Practice will develop Higher Apprenticeships for the public relations industry, delivering 600 apprenticeship places and involving organisations such as Edexcel. £1,200,000
PERA Innovation will develop a Higher Apprenticeship pathway in research and development to serve the advanced engineering sector, focusing primarily on Oxfordshire. Employers that will benefit include Oxford Instruments and Infineum. £465,800
The Peter Jones Academy for Enterprise will develop and implement a new apprenticeship in innovation and growth at level 5, creating 1,020 apprenticeships. This will build on an existing Level 3 apprenticeship and enable learners to progress into senior business development roles within SMEs, as well as larger employers such as Orange, T-Mobile and Jaguar Land Rover. £401,300
PricewaterhouseCoopers LLP (PWC) will develop a Higher Apprenticeship programme in professional services, focusing on tax, audit and consultancy management. Organisations that will help promote and deliver 1,500 apprenticeships include The Institute of Chartered Accountants and Association of Taxation Technicians. £1,500,000
Skillset, the sector skills council for the creative industries, will develop a Level 4 apprenticeship to meet skills needs in advertising, creative and digital media and fashion and textiles. Burberry, PMA and Starcom MediaVest will help deliver 500 apprenticeships. £938,800
The following Trailblazer projects will receive a total of £1.7 million funding to deliver an additional 6,000 Higher Apprenticeships. They were not part of the competitive bidding process:
An information technology Higher Apprenticeship project delivered by IT sector skills council e-Skills will deliver 1,000 apprenticeships, in partnership with employers including BT. £1,185,000

SEMTA, the skills body for science, engineering and manufacturing technologies, will develop an advanced manufacturing Higher Apprenticeship project, supporting 4,800 new apprenticeships nationwide. £500,000
The projects above will directly support 19,000 additional Higher Apprenticeships - but they will lead to many more than this as the frameworks are rolled out to other providers and employers. The National Apprenticeship Service is working with employers and providers to ensure that these new frameworks are fit for purpose, meet clearly defined needs and build capacity to deliver the expected growth in Higher Apprenticeship numbers.

Projects are for 2011/12 and 2012/13. The Higher Apprenticeship Fund is development funding and will be contracted and paid to the contractor against a schedule based on outcomes agreed in the contract. Funding can be used for engaging key employers, engaging employees, improving provision and developing products. Payments will also be linked to the direct creation of Higher Apprenticeship opportunities. It will not be used to substitute the employer contribution to Higher Apprenticeship training costs or meet the cost of delivery.

The Government's response to the sector wide consultation New Challenges New Changes today sets out reforms that will make further education providers more responsive to the needs of local employers in delivering apprenticeships and other training. These include a simplified FE funding system; freedoms and flexibility for colleges and providers; the National Careers Service; improving adult literacy and numeracy; global FE; excellence in teaching and reforming FE sector governance.

BIS's online newsroom contains the latest press notices, speeches, as well as video and images for download. It also features an up to date list of BIS press office contacts. See http://www.bis.gov.uk/newsroom for more information.
Notes to Editors
Contact Information
Name BIS Press Office Job Title
Division COI Phone
Fax
Mobile
Email NDS.BIS@coi.gsi.gov.uk
Published 1 December 2011