1862 property ownership records released
From today we've released details of the first properties registered under the Land Registry Act 1862.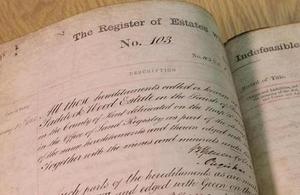 Tracing family trees and ancestral roots has become a national pastime. Amateurs from around the country have joined genealogists in a hunt to unearth information from the past.
From today your search may become a little more interesting, because we've released details of the first properties registered under the Land Registry Act 1862. This data includes almost 2,000 records that you can now view or download for free from Land Registry's website. We've scanned and indexed 68,000 pages of the handwritten parchments to give you a comprehensive digital snapshot of property ownership in the nineteenth century.
Before 1862, there was no central registration of titles that provided ownership details. However local Deed Registries did allow land holders to register the title to their property, which was stored locally. After many attempts to establish a general register of conveyances failed, the 1862 Act was passed. The act enabled all landowners to register the title to their property, thereby creating certainty in ownership and making dealings in land simple and economical.
Registration of property in 1862 was significantly more difficult and costly than today. With twenty million people in England and Wales living in 3.7 million houses, property ownership was reserved for the privileged. Today 56 million people live in 23 million houses.
The very first registered title - Title Number 1 was voluntarily registered in 1863 to Sir Fitzroy Kelly MP for his properties Crane Hall and The Chantry near Ipswich, Suffolk. Like all title registers in this period, it was beautifully hand written and retained within a leather-bound ledger.
Having successfully preserved the ledgers for so long, we have now digitally scanned the whole series. This exercise was carried out to not only preserve the information, but to enable us to share this priceless collection with you.
What can you expect to find within the 1862 Act register?
The Register of Estates with an Indefeasible Title: contains information about the property location, including details about the parish and county, and the date the property was first registered
The Record of Title to Lands on the Register: contains the date the person was registered as proprietor and their name and address. In some cases it may also refer to a deed which may contain some limitations on the use of the land
The Register of Mortgages and Incumbrances: contains details about any mortgages or leases which may affect the property.
The fourth file contains the Instrument Books (IB). To support the registration process, proprietors often supplied additional documents such as deeds of conveyance and/or marriage certificates. Most of these files will shortly be digitalised and made available to you, adding another rich seam of information to your search.
Published 31 March 2014