£180 million new bursary scheme to help the most vulnerable 16- to 19-year-olds
The Secretary of State announced £180 million to help the most disadvantaged 16- to 19-year-olds continue in full-time education.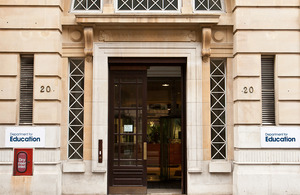 The Government today announced a new £180 million bursary scheme to help the most vulnerable 16-19 years olds continue in full-time education.
The scheme is made up of two parts - a guaranteed payment to a small group of the most vulnerable, worth more than anybody got under the Education Maintenance Allowance (EMA), and a discretionary fund for schools and colleges to distribute:
Around 12,000 16-19 year olds will be given guaranteed bursaries of £1,200 a year. This group is made up of children in care, care leavers and those on income support. Income support is paid to young people such as teenage parents, young people with severe disabilities, teenagers living away from their parents and young people whose parents have died. This is more than they would have received through the EMA.
Schools and colleges can distribute the rest of the money to support any student who faces genuine financial barriers to participation such as costs of transport, food or equipment. They will have the freedom to decide the scale of the bursaries; to pay weekly, monthly, or annually; and link it to behaviour or attendance.
The current discretionary fund is £26 million. In future the fund will be worth £180 million. Even after the guaranteed bursaries have been paid to the most vulnerable 12,000, colleges will still have £165M for the discretionary pot.
There will also be additional transitional arrangements to help those who are part-way through their studies and are currently receiving the EMA. The transitional arrangements consist of two parts:
First, all students who first successfully applied for EMA in 2009/10 will continue to receive payments at the same level until the end of the 2011/12 academic year.
Second, young people now in their first year of post-16 study who were in receipt of the maximum weekly EMA payment of £30 will be eligible for £20 for each week they are in education or training until the end of the 2011/12 academic year.
Michael Gove MP, Secretary of State for Education, said:
Sadly, we have been falling behind other nations in our educational performance. We have one of the most unequal education systems in the developed world. We have an insufficient supply of high quality vocational education. We have a system of education spending which is fundamentally inefficient.

We are expanding apprenticeships, expanding technical Academies, and today we are providing targeted financial support for the most vulnerable 16-19 year-olds. £180 million will be available for this bursary fund - enough to ensure that every child eligible for free school meals who chooses to stay on could be paid £800 per year - more than many receive under the current EMA arrangements.
Andy Wilson, Principal of Westminster Kingsway College, said:
I welcome the fact that colleges will have the discretion to distribute these bursaries to the students who need them most. We are best placed to do this as we know our students and understand their needs - we already advise them on a whole range of financial issues and this will give us the flexibility to provide financial support to the most vulnerable.

Westminster Kingsway has a 100 year history of providing routes for young people who would otherwise miss out to access high quality vocational education. We have seen how important decent levels of financial support are for their success.
Seyi Obakin, Chief Executive of Centrepoint, said:
We welcome the news that the government has allocated £15m to meet the financial needs of vulnerable young people. I know this will mean that further education will now be a real possibility for the homeless young people that Centrepoint helps every day.
Association of Colleges Chief Executive Martin Doel said:
We welcome today's announcement of £180 million to help students from the poorest families to continue with their education. Clearly this falls far short of the £575 million in the EMA, but we recognise that this support is being targeted at those students most in need, including those who are in care and those with disabilities. We are pleased that Ministers have listened to our concerns about students starting their second year in September. They signed up to their courses with the expectation that this funding would continue and AoC felt there was a moral obligation to do so.
We appreciate the intention that our member Colleges be entrusted with maximum discretion as to how this money is to be spent and that there will be freedom to use it to fund transport, food and learning materials. Our members had expressed great concern about transport costs, in particular, which an AoC survey had identified as a key barrier to students continuing with their College courses.
There will be an extremely tight eight-week consultation period where the finer details of the funding and administration will need to be determined and we look forward to working closely with Government to ensure the best outcome for our Colleges and their students. In this we will be doing our utmost to ensure that administrative costs are kept to a minimum and that we build on the experience of Colleges in handling the existing Learner Support Fund to ensure that the maximum benefit from the available funds are delivered to students on the basis of need and disadvantage.
The Government will now carry out an 8 week consultation on the scheme so the detailed arrangements can be finalised in time for allocations to be made to learning providers for the 2011/12 academic year.
The EMA scheme cost £560 million per year and was paid to 45 per cent of young people. Robust evaluation evidence from the National Foundation for Educational Research (NFER) showed around 90 per cent of those who received EMA would have carried on their education without it.
Notes to editors
1. Simon Hughes MP was appointed by the Prime Minister and Deputy Prime Minister. He visited schools and colleges and talked to students, lecturers, teachers, and other key groups. 2. All families of 16 to 19-year-olds who are in full-time, non-advanced, education such as A levels or BTECs are entitled to £20.30 a week for their eldest child and £13.40 a week for each other child. Young people may also be entitled to other benefits such as Care to Learn, income support or housing benefit.
DfE media enquiries
Central newsdesk - for journalists 020 7783 8300
Published 28 March 2011