£1.7m boost to help provide improved air ambulance coverage in East Anglia
Chancellor visits East Anglian Air Ambulance in Norwich following £10 million Budget pledge for air ambulance services across the country.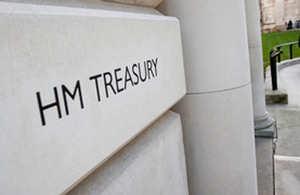 East Anglian Air Ambulance (EAAA) will receive £1.7 million of the funding, which will allow it to buy a new Airbus EC 145 T2 helicopter, improving coverage for Bedfordshire, Cambridgeshire, Norfolk and Suffolk.
The new helicopter, which will be based in Norwich and be part of the regional 999 emergency response service, will also have a longer flying range and capacity for extra crew members.
East Anglian Air Ambulance is one of the first night helicopter emergency medical service operations for the UK. Since the charity's launch in 2000, the dedicated medical crews on the charity's specially equipped helicopters have attended to over 16,000 people across the region.
During the Chancellor's visit to Norwich, he met members of the critical care team including the doctor and critical care paramedics. He was also shown the charity's existing helicopter, an EC 135 T2 aircraft.
The Chancellor made the £10 million funding pledge at last week's Budget, which comes from fines levied on banks for misconduct.
The Chancellor pledged that all the proceeds from these fines would be spent during this parliament on military and blue light good causes. So far, funding has been awarded to a range of projects from the Invictus Games to mental health support for ambulance, police and fire services.
George Osborne, Chancellor of the Exchequer, said:
Air ambulances play a vital role in saving lives both here in the East of England and across the country as a whole. I was delighted to be able to announce £1.7 million of additional funding for a new helicopter for the East Anglian Air Ambulance Charity at the Budget.

This funding comes from fines levied on banks, and it's only right that funds from those who demonstrated the worst values should go to those, like the brave air ambulance crews, who demonstrate the best of British values on a daily basis.
Alastair Wilson, Medical Director for EAAA said:
Funding to source a second EC145 T2 for the East Anglian Air Ambulance is absolutely marvellous news for the charity, and for the people of East Anglia.

The new aircraft will greatly enhance the lifesaving service we provide across the region through its increased capacity and endurance. I would like to thank all those involved with EAAA's grant application for their support.
Further information
At Budget, the Chancellor announced £10 million of funding for air ambulances across the country which will, in addition to the £1.7 million for East Anglican Air Ambulance, be spent on:
Essex & Herts Air Ambulance Trust: £1.5 million will go towards procuring a new leased aircraft in May 17 when the current aircraft leasing contract will expire, and to continue to lease a to enhance the ability to provide a 24/7 service across Essex and Hertfordshire and surrounding areas
The Scottish Air Ambulance: the newest of the air ambulance charities needs £3.3 million over the next five years to upgrade its ageing Bolkow 105 helicopter to enable better service and more flying hours
Wales Air Ambulance: £1.5 million will upgrade its ageing Bolkow 105 helicopter to enable better service and more flying hours
Lucy Air Ambulance: £1 million to go towards the rapid transfer of children 0-16 years who require specialist care which is not available locally and to repatriate those who have been admitted to hospital, for a variety of reasons, a very long way from home and family
At Autumn Statement 2013, the Chancellor announced £1.1 million towards the second London Air Ambulance.
At Autumn Statement 2014, the Chancellor announced:
£1 million for the Great Western Air Ambulance which will pay towards the first year of a new helicopter's running cost
£1.5 million towards the cost of the Kent Surrey Sussex Air Ambulance Trust's new helicopter
£5 million to be spent on infrastructure and equipment by air ambulances across England and Wales
the reimbursement of VAT on the operational cost for Air Ambulances which is equivalent to an element of £25 million over the next 5 years
Published 26 March 2015