World news story
UK-Israel Tech Hub facilitates 175 innovation partnerships
According to the latest impact report, UK-Israel Tech Hub's innovation partnerships are creating potential value of up to £800 million.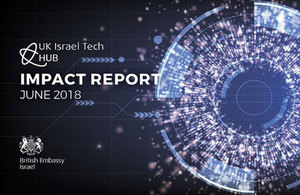 A world first tech partnership between the UK and Israel has been so successful that it has helped to boost the UK economy by potentially £800 million since it was launched in 2011.
The UK Israel Tech Hub, based in the British Embassy in Israel, connects businesses in both countries. It has enabled British companies to access Israel's world leading innovations, and at the same time has helped Israeli companies go global by partnering with UK firms.
So far the hub has led 175 tech partnerships in deals worth £85 million according to a new report on its impact. Last year saw more UK organisations using cutting edge technologies in their business in areas including Artificial Intelligence, chatbots, blockchain and Internet of Things (IoT) and in projects such as smart cities and smart industries.
DCMS Secretary of State Matt Hancock said:
We want the UK to be the best place in the world to start and grow a digital business, but to do that we need to work with like minded tech nations. The UK Israel Tech Hub has given aspiring British companies the opportunity to discover Israel's world leading innovative technology. Through its success we're now expanding the scheme to create a global network of hubs, connecting digital dynamos across the world.
Ayelet Mavor, Director of the UK Israel Tech Hub, said:
We are pleased to see more and more UK companies tackling their innovation challenges and creating long term partnerships meant to incorporate Israeli innovation into their businesses and create sustainable value for them. RBS, HSBC as well as organisations such as the NHS, are paving the way for their UK peers to work with innovators and create real win-win partnerships.
British Ambassador to Israel David Quarrey said:
The Hub has successfully connected the vibrant tech sectors in both countries throughout the years. These new partnerships mean the UK is now a major destination for Israeli innovation, and Israeli innovation is now part of many areas of life in the UK.
Read the full report.
Published 13 June 2018
Last updated 14 June 2018
+ show all updates
Added translation
First published.