Press release
£17.5 million for skills in Leeds City Region
The government today (5 February 2015) announced £17.5 million for businesses to improve skills in the Leeds City Region.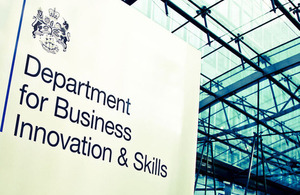 The Leeds City Region Enterprise Partnership (LEP) secured this funding from the government's Employer Ownership of Skills Pilot (EOP). The funding will be awarded to small and medium-sized businesses in the Leeds City Region to invest in the skills of their workforces, enabling them to develop and grow their business. This is supported by more than £20 million in employer contributions.
The programme has been developed to help small businesses source the skills solutions that they really need. It will provide training, skills assessments, impartial specialist advice and help small businesses to take on apprentices. The programme aims to address skills shortages in key sectors in the Leeds City Region that offer the greatest opportunities for economic and employment growth, such as manufacturing, construction, digital, hospitality and medical technology. Grants and support of £500 to £50,000 will be available to businesses in the region.
Business Secretary Vince Cable said:
From medicine to manufacturing, the Leeds City Region boasts a diverse business community across high value sectors so it's essential they get the support they need to grow. That's why the government is providing SME's across the region with funds to support bespoke training programmes and the means to take on Apprentices so they can develop their workforce with their business needs in mind.
Chancellor of the Exchequer George Osborne said:
Supporting small businesses and the jobs they create is part of building the northern powerhouse. The new Leeds City Region skills fund is good news for small businesses. By investing in the skills of local people we will create new jobs in the City Region and help small firms thrive.

Our investment will help deliver training to 17,000 people and enable thousands more employers to hire new apprentices. By backing small business and creating new jobs, we can ensure Britain stays on track for prosperity.
The bid was led by Mark Ridgway OBE, LEP Board Member and Managing Director of Joseph Rhodes Ltd, an advanced manufacturing company, based in Wakefield on behalf of employers in the Leeds City Region.
Roger Marsh, Chair of the Leeds City Region Enterprise Partnership said:
I am delighted that the LEP has succeeded once again in securing vital funding for our region. This is a step change in addressing the skills needs in the City Region and will help improve business competitiveness across our diverse growth sectors.

This funding commitment confirms the trust government places in our City Region; recognising our achievements of creating more and better jobs for our residents and acknowledging our ambition to work collaboratively with employers to drive the skills agenda.
The project will offer business support and grants of £500 to £50,000 to companies in the Leeds City Region. As a result of this funding, the LEP along with its delivery partners will support:
3,000 businesses with a skills service
2,500 businesses with skills assessments and advice
1,000 businesses to take on apprentices
17,100 individuals into training
To find out if your business can benefit from the service please visit the Leeds City Region Enterprise Partnership website
Notes to editors
The Employer Ownership Pilot (EOP) is a £340 million competitive fund that invited employers, over 2 rounds, to tell government how they would better use public investment, alongside their own, to invest in the skills of their current and future workforce in order to grow our economy.
The LEP: The Leeds City Region Enterprise Partnership, also known as the LEP, is a private and public sector partnership, working to stimulate business growth across the Leeds City Region. The Leeds City Region geography includes 11 local authorities (Barnsley, Bradford, Calderdale, Craven, Harrogate, Kirklees, Leeds, Selby, Wakefield, York and North Yorkshire County Council).
Published 5 February 2015