£16 million boost to attract more adopters
Adoption agencies will be given extra cash to address the shortfall of adopters so children who need them find loving, stable homes more quickly.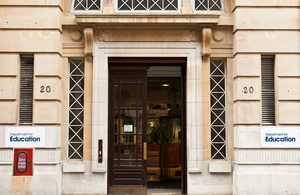 The £16 million funding – available from later this year until 2016 – will help new and existing voluntary adoption agencies (VAAs) to develop new and creative ways to recruit more adopters.
The new cash will provide a much needed boost to the recruitment of adopters by VAAs, and could see the VAA sector recruit as many as 2,000 prospective adopters a year by March 2016.
The money will see:
£15 million over the next 2 years in expansion grants for new and existing VAAs to increase the recruitment of adopters and to create innovative ways of working
new business support for adoption agencies, providing advice, coaching, and guidance to expand their organisations
Children and Families Minister Edward Timpson, who has 2 adopted brothers himself, said:
There are still over 4,000 children waiting to be adopted nationally, and we cannot stand by whilst children's futures hang in the balance. This is why we are taking a closer look at how we are recruiting new parents by giving voluntary adoption agencies a bigger role.

We know more than 650,000 people would consider adopting right now, yet more than 700 additional adopters are needed each year to keep up with the growing number of children waiting to be adopted.

What is important is that children who are in need of a permanent, loving home are found one as soon as possible - not who delivers the service.
There are currently 23 VAAs in England, who have recruited and approved over 600 desperately needed parents for the thousands of children waiting for a stable home in the last 12 months. Today's announcement will help VAAs to improve adoption services and respond to the needs of all children – particularly those children who are harder to place.
Today's package is the latest in a series of reforms the government has made to address the chronic shortage of adopters and reform the way they are recruited. To help address the immediate need to find children loving homes, we have given local authorities £150 million to increase the number of recruited and approved adopters. The Adoption Reform Grant consists of:
£50 million to help authorities attract more adopters – particularly those prospective parents who are willing to take children who are more difficult to place – and address local barriers to adopter recruitment
£100 million to support adoption reform on the ground - local authorities can use this money to address their highest priority needs, such as the major backlog of children waiting for adoption, or the provision of specialist support services
We are also helping adopters by:
implementing a simplified process for people who want to adopt or foster a child
providing a first point of contact for anyone interested in adoption through First4Adoption
introducing scorecards that allow a comparison of the delay for placement of children in care in each local authority
introducing legislation that will:

make sure court hearings on children in care last no longer than 26 weeks, expect in exceptional circumstances
encourage 'fostering for adoption' – placing children with approved adopters who will foster the child while they wait for court approval to adopt
give adoptive parents the same pay and leave rights as birth parents from 2015
allow prospective adopters to access the adoption register directly, subject to appropriate safeguards, so they can play a more active role in identifying children for whom they might be suitable adoptive parents
Notes to editors
research published by the Department for Education in April shows over 650,000 people are 'very likely' or 'certain' to consider adopting imminently: 'Research about fostering'
the First4Adoption service gathers in one place, for the first time, the evidence and information people need to navigate the adoption system. The website and infoline offer clear, independent information about adopting — from who can adopt to how to start the adoption process — together with examples of people from a range of backgrounds who have successfully adopted, a myth-busting section and an adoption agency-finder
further information on the Adoption Reform Grant is available on the department's website
DfE enquiries
Central newsdesk - for journalists 020 7783 8300
General enquiries - for members of the public 0370 000 2288
Published 8 August 2013